Trade Show banner signs are one of the most popular types of signs used at the Las Vegas trade shows. Las Vegas trade show banners are inexpensive and come in many custom sizes. So the vinyl banners can be made to be unique to your business.
Trade shows in Las Vegas are big business for businesses seeking to make their company known throughout the world. Amid the glitz and glamour of Las Vegas. Trade show banner signs emerge as necessary signage tools. Capturing the attention of the attendees at your trade show or convention. So the convention banners work great to garnish attention.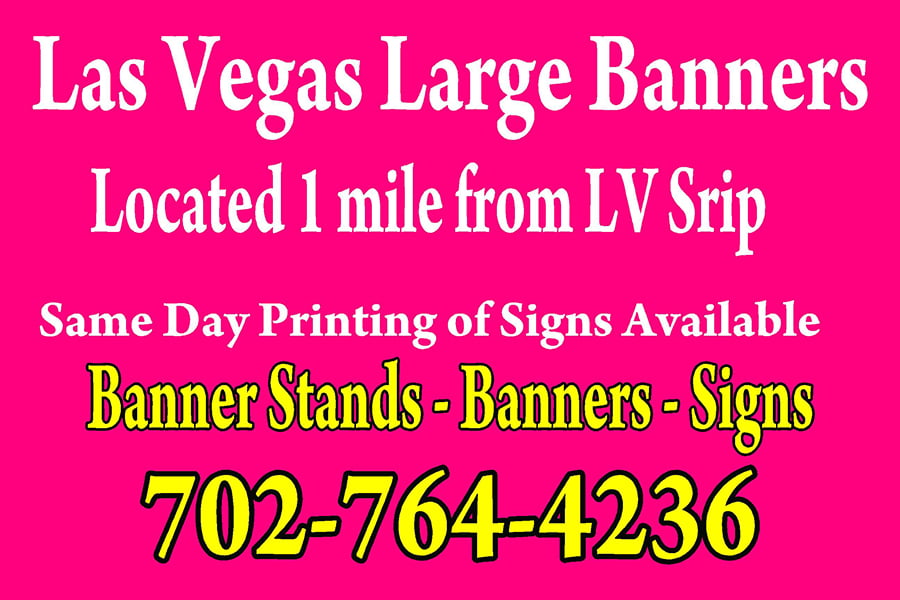 Designing a Tradeshow Banner
Your signs need to make your company stand out amongst all the other businesses at the event venue. Using vibrant colors to attract attention and colors that for your company branding. Is the first step in designing a banner. So the color schemes need to match your company or products.
The text used on a banner sign needs to be simple and easy to read. People attending the events get tired. So making the banner easy to read will allow them to understand the message the vinyl banner is sending. So clear and concise sentences allow for easy interpretation of your marketing message.
The fonts used designingthe vinyl banner is crucial. Hard to read fonts should not be used. So simple and easy to read fonts will help the attendees understand what your marketing message is.
Las Vegas Is The King Of Trade Shows
Las Vegas stands as the unrivaled epicenter of trade shows and conventions in the United States. As millions of professionals and enthusiasts from across the globe attend these events at the Las Vegas Convention Center and other venues.
Las Vegas has three very large modern event venues.
Las Vegas Convention Center: Has over 3 million square feet of dividable space to hold very large conventions. This event venue is so large that they can hold several conventions at one time.
Mandalay Bay Convention Center: Attached to Mandalay Bay Casino. This event venue has over one million square feet of dividable floor space to hold events.
Venetian Expo Convention Center: Has state of the art features. It is attached to the world famous Venetian Hotel and is top quality.
Vegas is a fun filled city that goes 24 hours a day. Las Vegas creates a unique atmosphere that blends business with entertainment. The allure of this city, often referred to as the "Entertainment Capital and Gambling Capital of the World,". Making it a top location for companies to showcase their products and services. So this allows everybody to have fun before and after the conventions and trade shows.
Las Vegas Trade Show Banners Are Popular and Inexpensive
In this competitive landscape, trade show banner signs in Las Vegas take center stage. So they serve as the initial point of contact between businesses and attendees at the event venues. In a short period of time, these banners must garnish the attention of the client.
The tradeshow banners can be made in many different sizes to convey your marketing message. Trade show banners as big as 10ft tall by 100ft wide have been displayed before at event venues. So they will hang these large trade show banners from the rafters of the trade show venue. So the banner cannot help but be seen by all the attendees and competition at the event.
The large banners cost about $2.00 a square foot. Other smaller banners like 4×10 banners, 3×8 banners cost about $3.00 a square foot. So they all come with hemming on the perimeter and grommets on all four sides for easy display. Displaying the banner signs is easy with the grommets.
Conclusion
As you plan your next trade show exhibit in Las Vegas, remember that your Las Vegas banner is not just an expense. So the Vegas tradeshow banners are a low cost approach to getting attention for your company at the event venues. The banner signs can be made fast and made locally at one of the many sign shops near the convention venues. So many sign shops offer delivery to the event venues or hotel rooms. Or since the sign shops are so close, you can simply pick them up. So contact your local banner store today and order your vinyl banners for your next event