Banner printing for Vegas shows is widely used and needed during the busy event and show season. The Las Vegas trade shows and event season runs year round. But the majority of the shows are during the November through April months. So that is when many businesses come to Las Vegas to showcase their products and technology. Millions of interested people from all over the world attend these events to learn and get a leg up on the competition.
So if your a merchant in Korea and want to see the latest product lines. Coming to Las VEgas will allow you to start the ordering process ahead of other businesses. Establishing business relationships is the key to these trade shows and conventions.
Are you ready to get you and your company noticed at Las Vegas shows? I've been in the Vegas banner printing business for over 30 years. And I'm here to share my knowledge on how to truly stand out in a Sin City event or show. Capturing attention at the venues to choosing the right materials, this article will help you understand it all.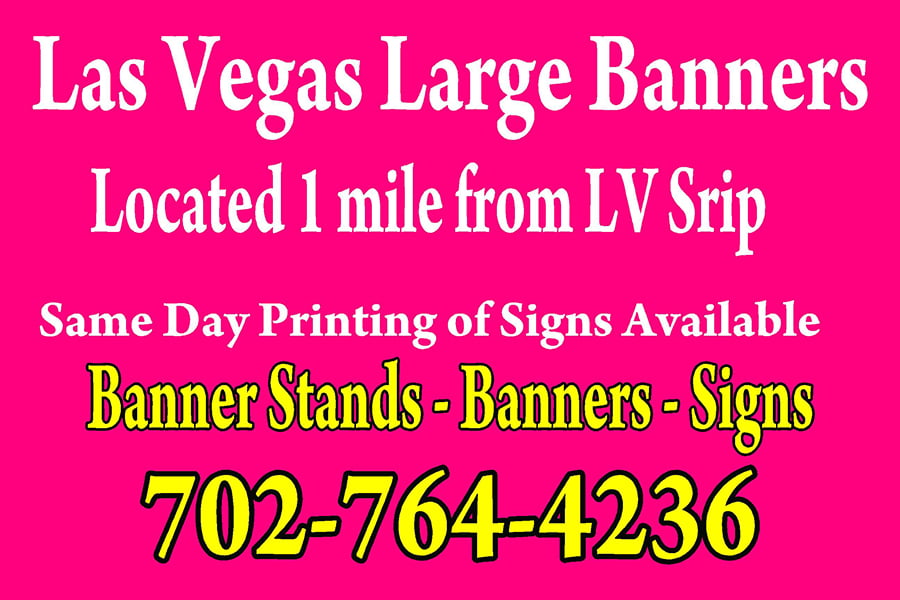 Banner Printing For Vegas Shows Will Get You Noticed.
Picture this: You are at the Las Vegas Convention Center with hundreds of other vendors. The venue is over 3 million square feet and people have been walking around and talking to people all day. The attendee sees a bright and vibrant banner. He naturally is attracted to its colors and comes on over to your trade show booth to see what you are promoting.
Your trade show banner should be an attention-grabber from a distance. Use bold and vibrant colors, easy to read fonts, and eye-catching pictures and images . So that they encapsulate the purpose of you being at the show. In Las Vegas, being timid won't cut it. Think big and bold when you are at an event venue. You want people to take notice of your trade show signs and trade show banners..
Size Matters: Go Big or Go Home. In Sin City Las Vegas, everything is larger than life, and your convention banner should be no exception. Consider large-format printing to ensure your Las Vegas banner commands and gets attention. Remember, the bigger, the better. People are more readily able to see larger banners than smaller banners. Selecting a vinyl banner or mesh banner material for outdoor use is a first step in deciding what type of banner material to use.
Anecdote: The Banner That Weathered the Vegas Storm. Years ago, during a particularly rainy night in Vegas. One of my Vegas banners endured a sudden rain downpour that no one saw coming. While other banner signs around it were damaged due to the rain. My banner held up thanks to the water resistant vinyl material. ( The inks were solvent inks and can withstand being wet ) It was a testament to the importance of choosing the right sign materials for the Las Vegas climate.
Choosing the Right Banner Design.
Vegas is all about vibrant colors, and your Vegas vinyl banner should reflect that. Invest in high-quality printing that brings out the full spectrum of colors and ensures your design pops under the bright lights.
Choosing the right spot to display your Vegas event banner is important. Choosing strategic spots with high foot traffic and visibility will allow your vinyl banner to be seen at event venues. There are many signs to look at, so choose wisely where your banner sign will be displayed.
Event backdrop banner displays are great for the back of your event booth. So as the people walk by, they will look at your event booth signage and notice your large backdrop banner in the background. Using vibrant and bold colors will initially attract their attention. Once the attendees stop and look at your banner, it gives you the opportunity to speak with them.
These backdrop banners are easy to set up with at venues. Using an adjustable banner stand will significantly help in displaying these large banners. 8×8 banners, 8×10 banners and 8×20 banners are just some of the large banners being used at event venues.
Tips For Large Event Banners And Keeping Them In Top Shape
Maintaining your banner's visual appeal is necessary. Regularly inspecting it for wear and tear and replacing it if necessary. A faded vinyl banner or damaged banner can send the wrong message about your show and damage your company's branding. Fabric banners should be washed and cleaned before every use. So that the fabric banner will look fresh and new for every show.
When your event is over, don't forget to remove your banner in a timely manner. Leaving it up too long can lead to damage to the vinyl banner and mishaps. Also, some convention venues will impose fines for not having your items removed within a certain time frame.
Conclusion
Mastering the art of banner printing for Vegas shows is about combining creativity, durability, and placing the vinyl banner in the right location. Investing in high-quality material and go big with your banner designs . So as to make a lasting impression on the attendees at your event.
Las Vegas has many banner stores capable of trade show banner printing quickly and at a low price. These banner printers are usually located near the convention venues for easy pick up. Or fast delivery to your event venue or hotel is possible.
Many of the vendors and companies coming into Las Vegas use local Las Vegas banner shops. So as to save money on expensive shipping costs. Also it cuts down on the damaged signs or late signs arriving in Las Vegas. So often the signs do not show up in time and the businesses have to order same day banner printing to get their event show signs. Fortunately, there are several sign shops that service the convention and trade show venues in Las VEgas. These sign shops are generally located close to the event venues to expedite delivery or pick up of the event sign and event banners.