Sign banners Vegas are a very popular form of signage used to promote events and business. These cheap vinyl banners can be custom printed to any size. Las Vegas businesses use these vinyl banners to promote merchandise and display them on their buildings. By displaying the banner signs they let everybody know who is driving by who they are. Las Vegas traffic has increased immensely over the last few years. So it is not uncommon to get several thousand vehicles driving on streets like Sahara or Jones every single day. The businesses next to the freeways are especially using these large banners. They are placing them on their buildings facing the freeways. So people on the freeways are seeing the advertising banners.
The large banners act like a billboard and get lots of attention. The stores are keeping the Vegas banners simple in design. So that they can be understood quickly in the few seconds it takes to get noticed as they are travelling at high speeds. Many local stores are finding that these Vegas banners are working out great for advertising. They are really cost effective and gicing a great return on investment.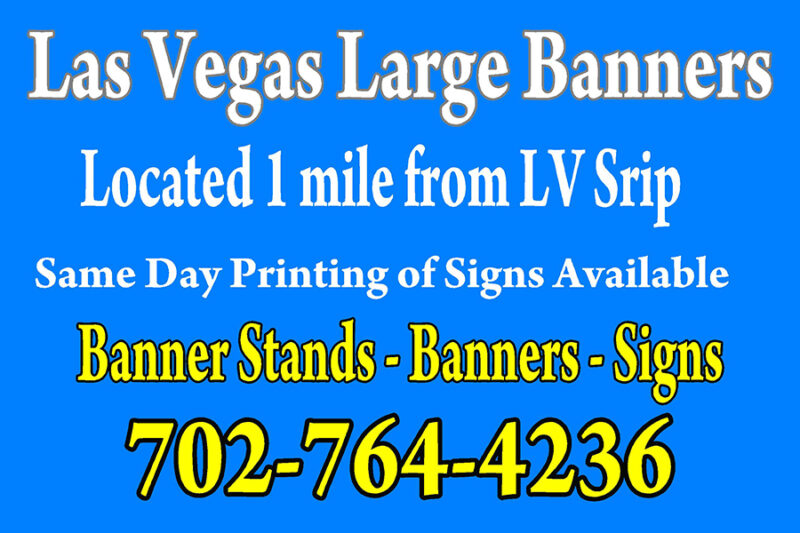 Local Stores Use Sign Banners Vegas
Vinyl banner signs are very popular as a form of advertisement in Las Vegas. Many businesses use these vinyl banners as a way to advertise to their customers. So they rotate the banner signs every few weeks . So as to always look like they are advertising new product specials. One local pizza place is rotating banners every two weeks. One week they advertise a large pizza special. So then the following week they advertise a chicken wing spacial and so on. They are having great success in attracting new customers and retaining old customers.
Vinyl banners are full color signs. They can be any color or combination of colors. So pictures and logos can also be printed on the vinyl banner signs. Turnaround time is just a few days. Many times same day banner printing can be offered. The vinyl banners will come hemmed ( reinforced perimeter ) and grommets approximately every two feet on all four sides. Pole pockets can be also be made if you intend to use the vinyl banner as a backdrop banner.
The key to designing these Las Vegas banners is to have vibrant and bold colors that get notices. Also, if you are going to advertise a pizza special, make sure you have a clear and concise image of a pizza that looks good.
Conclusion
Your local Las Vegas sign company will have more information on these great market banner signs that can help your business. The vinyl banners are inexpensive and custom made to any size you like.