Same day Vegas convention signs is important when you have no signage. So it happens very often that vendors and companies coming into Las Vegas will forget to bring their signs with them. So in other cases the shipping companies they rely upon fail to deliver the signs and banners in a timely manner. Or worse, the signs show up damaged. In all these cases the signs need to be made again. So that the event can go on as planned.
There are hundreds of events and exhibits every year in Las Vegas. Thousands of vendors and companies display their wares at these events. So many banner stands and foam board signs are required for these events. That is why many companies prefer to just have their signs and banners made in Las Vegas. So as to avoid lost or damaged graphics. As a result, the Las Vegas sign industry is robust and wanting to assist you. The Las Vegas sign stores that offer same day sign printing are usually near the convention venues. So this allows for fast pick up or delivery of signs to your location.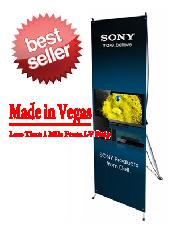 Same Day Vegas Convention Signs are Not Expensive
Signs and same day banners are not necessarily expensive. If the sign shop has excess capacity they will simply charge you the normal rate for a sign. But if production needs to be changed and overtime paid. There might be a small increase in the cost of the signs. The local Vegas sign stores have state of the art printing equipment. So sign printing and banner printing is fast and inexpensive. These modern printers print faster than ever before at higher quality.
Las Vegas sign shops want to make your trade show and convention experience a positive one. Call a sign shop today if you should need help with your signs and banners.