Same day banner printing is available in Southern Nevada by local sign stores. These banner sign stores have actual sign printers. They are not sign brokers who have no equipment and rely upon actual sign companies to print their signs. So many times sign brokers cannot deliver what they promise and simply do not answer the telephone when they cannot deliver. Contact a professional vinyl banner printing sign company for best results.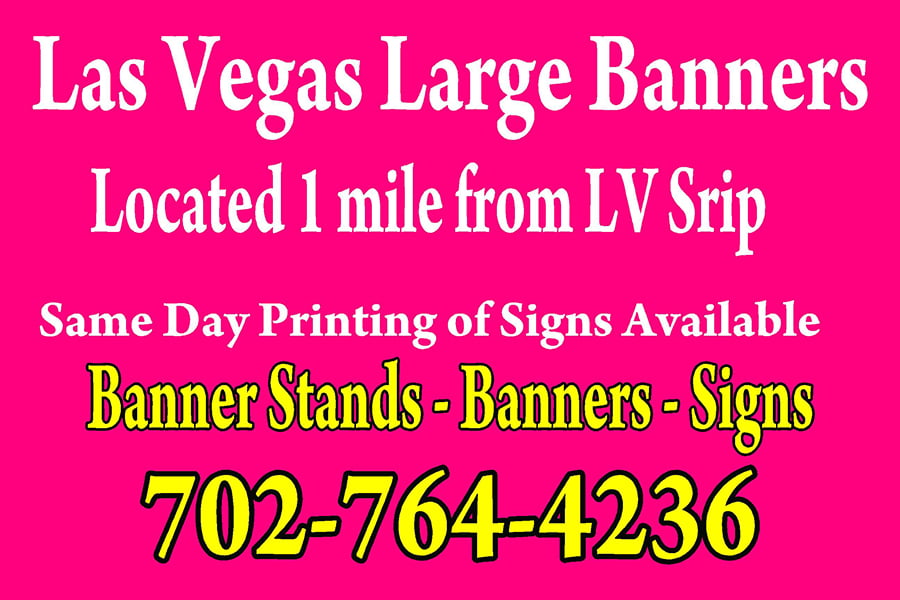 Same Day Banner Printing Is Needed For Events and Shows
Vendors and companies displaying at the trade shows and events need lots of signs and banners. So same day sign printing is necessary many times when the vendors find themselves without their graphics. So this actually happens very frequently. The Vegas signs and las Vegas banners get shipped into Las Vegas and they get lost or damaged while being transported. The damaged signs get discovered in Las Vegas and need fast replacing. So that the event can go on as planned.
Also last minute marketing strategy changes require new signs and Vegas banners. There are many Vegas sign stores that have state of the art sign printers. These sign printers can print signs and banners very fast. Also same day retractable banner stands. Since the speed of the printers has increased it has cause lower sign prices. These modern printers can print full color banners with the highest quality. Also logos and pictures can now be printed on vinyl banners.
Banner Printing can be in many different sizes. These sizes include banners as small as 1ft x 2ft all the way up to 10ft tall x 100 feet wide. The banners can be full color or just text banners. The vinyl banners will come hemmed on the perimeter for extra strength. Also they will come standard with grommets strategically placed on all four sides every two feet apart. The vinyl banners cost about $3.00 a square foot. Your local Vegas sign store will have more information to assist you.