Rush Las Vegas banners are sometimes necessary in Las Vegas. A city that provides twenty four hour entertainment. A city that also is the king of trade shows and conventions. More conventions and trade shows are held annually in Las Vegas than any other place in the country. Las Vegas has the infrastructure in place to be the king of events and shows.
So at these events many vinyl banners and signs are needed. Some companies and vendors choose to have their sign graphics printed back home. So then they ship them to Las Vegas for the event. The problem is that many times the signs do not show up on time or show up damaged. So the banners and signs need to be printed fast and cheap. So that the show can go on as scheduled.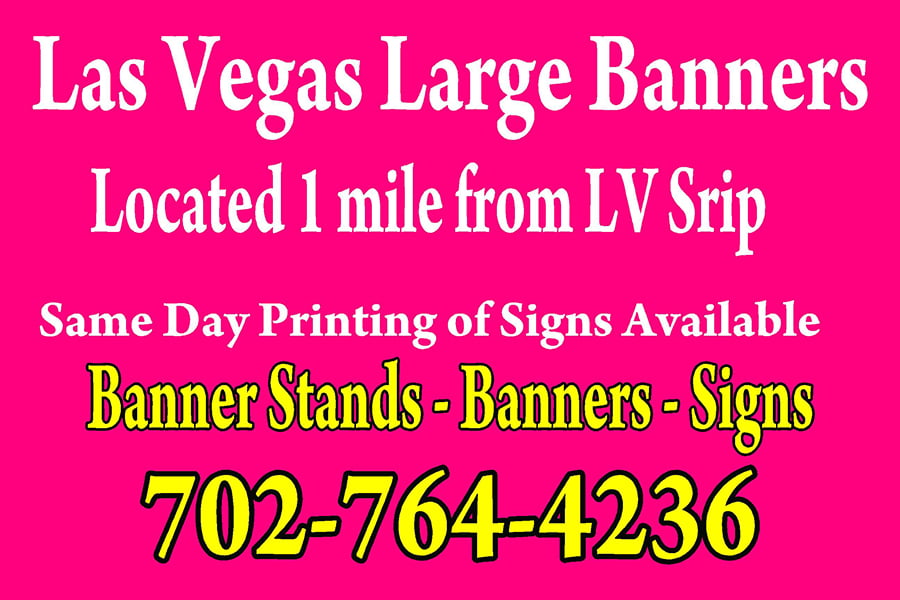 Rush Las Vegas Banners For Events and Exhibitions
There are a few Las Vegas sign shops that have modern state of the art printers that can print your rush order vinyl banners. These large format printers print very fast and at the highest quality. The speed of printing allows for more production and lower prices for the consumer. These banner sign stores can offer same day vinyl banner printing.
So the banners are printed on a 13 ounce vinyl banner material with environmentally friendly inks that will last a long time. These banners can be used both indoors as well as outdoors. So these vinyl banners can be custom printed to any size you like. A 10ft x 25 ft banner is no problem as well as a 1ft x 3ft banner sign. The banners all come hemmed for perimeter strength and grommets on all four sides. So this allows for easy displaying of your banner. Contact your local Vegas banner store for more information about rush order banner printing.