Rush Las Vegas banner printing is available for those times you need a Vegas banner fast. Las Vegas banners are a staple in the sign industry. These banner signs can be made to custom sizes to meet your marketing needs. Many local stores are turning to vinyl banners as a way to advertise to their customer base.
With all the new residents moving into Las Vegas for economical reasons from California. These new residents need to learn the stores in the neighborhood and where to shop. The telephone yellow pages are a thing of the past and the internet seems to be where people search. But old school advertising tells us that people look to their neighborhood stores to find out what is around them. So by placing Vegas banners on their buildings. The local stores are able to get the attention of people driving by. So with all the new residents, traffic has increased dramatically in Vegas. The Nevada Dept. of Transportation has confirmed this with their traffic studies. But locals can just drive down the street and notice more vehicles from just a few years ago.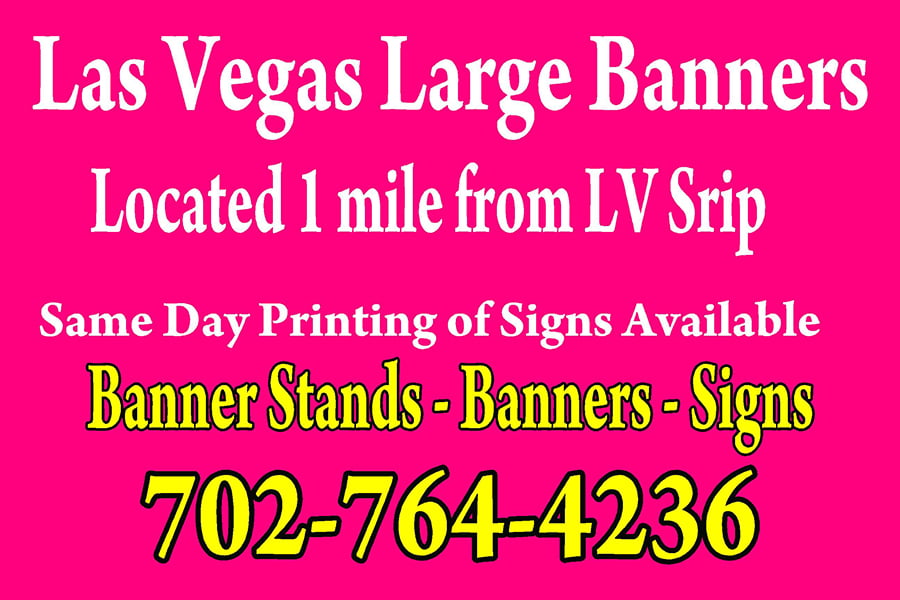 Rush Las Vegas Banner Printing Is Available For The Conventions
Same day banners or rush banners are needed many times for the many conventions held in Vegas. So often the vendors and companies who are presenting at these events need last minute signs or banners. The signs they brought get damaged or the signs being shipped to them get delayed or show up damaged. But the show must go on and so the banners or signs need to be made over. Fortunately there are many sign companies close to the convention venues that can do these same day signs. So give one of them a call if you should need some last minute signage.