Retractable popup banners Vegas are very popular at the many exhibitions and events in Las Vegas. So these retractable banner stands are self standing and require no support to be displayed. They can be placed anywhere which makes them very portable. In addition to the easy portability, the popup banner stands are inexpensive. The third reason companies like these rollup banner stands is the fact that when fully extended, they become quite large. Even the 33×78 economy pull up banner stand has about 17 square feet of printable space. That is a lot of information that can be placed on a simple banner display.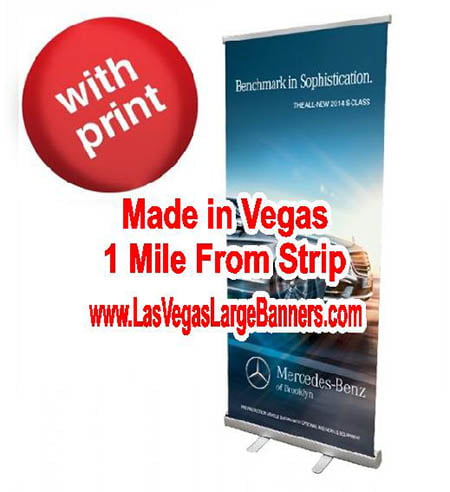 Retractable Popup Banners Vegas Can Be Made in Several Sizes
The economical 33×78 retractable banner stand is the most popular banner stand sign. The deluxe version of the inexpensive model is the 33×80 deluxe banner stand that comes with a wide chrome base that looks very impressive. So the banner stands come in width sizes up to 45″ wide and up to 92″ tall. The banner stand sign graphics are full color. So this means you can have as many colors on the graphic as you like. Also pictures and background images can be printed on the banner graphic.
Sometimes a designer will take a very large image and cut it up to fit the banner stands. They then print a section and place it on a banner stand. So then they place the banner stands together . So as to simulate one large graphic. For example, three economical 33×78 banner stands become a 99″ wide by 6 1/2ft tall banner wall. This banner wall can be set up in just a few minutes and taken down very easily. Best of all the banner stands all come with a carrying case to make easy transport of the stand.