Quick Las Vegas banners are important when you need a vinyl banner sign in a hurry. Las Vegas is host to hundreds of events and shows every year. So often vinyl banners and signs get lost or damaged and need replacing. Sometimes the signs are shipped into Las Vegas and do not arrive. So in other instances they show up damaged or are simply forgotten back home. In any case the signs and banners need to be replaced fast. Also that replacement needs to be at a reasonable price.
So Las Vegas banner sign stores have state of the art printers that can print signs and banners very fast. The sign stores use special inks that are ecologically sound and environmentally friendly. The printers are capable of printing several hundred square feet of material an hour with high quality. The inks being used create bright and bold colors.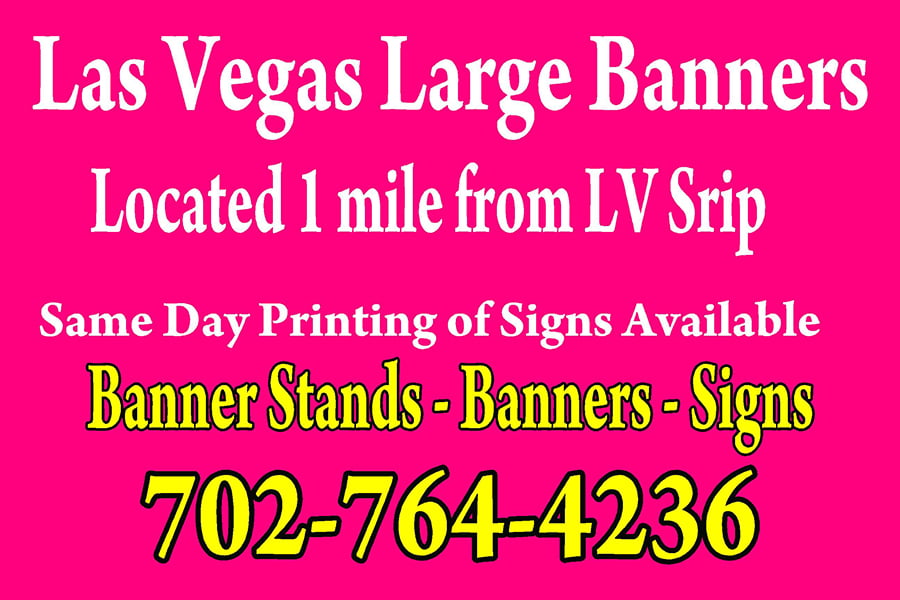 How Are Quick Las Vegas Banners Made ?
Las Vegas banners are printed on a 13oz banner materiel with inks designed to be bright and bold. The inks are long lasting and ecologically sound. These vinyl banner signs can be used both indoor and outdoors. So the Las Vegas vinyl banners are full color. So that means you can have as many colors or combination of colors as you like printed on the banner. The banner can also have pictures and logos printed on it as well. So after printing the banner it is hemmed on the perimeter. This allows for a strong perimeter where the grommets are placed approx every two feet on all four sides of the banner. The grommets allow for easy hanging of the vinyl banner.
Call your local Vegas banner sign store for additional information on banner printing. They can print your vinyl banner fast and at a reasonable price.