Quality Las Vegas banner printing will get you good looking sign banners at a reasonable cost. So with the recent advancements in sign printing. Las Vegas Banner printing has never been better. The newer large format printers print Las Vegas signs and banners with exceptional quality at very fast speeds. So this printing speed allows for faster production. In return it means a lower price.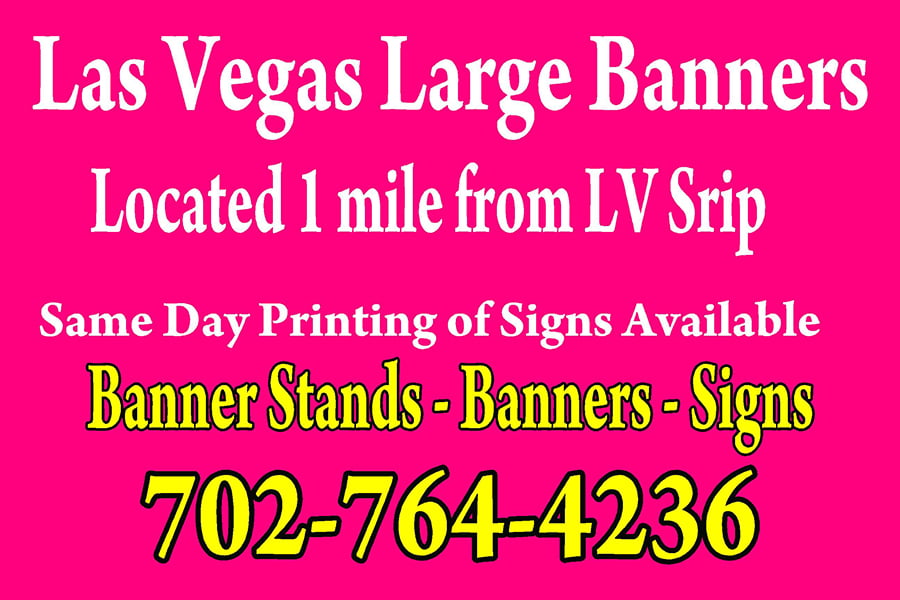 Quality Las Vegas Banner Printing Is Great For Local Businesses and Trade Shows
Local Las Vegas businesses are using vinyl sign banners to advertise to the public. These custom made banners can be made to any size to meet your marketing needs. The sign banners will last longer than a year in the outdoor weather of Las Vegas. The inks are designed to resist fading. So this is important because when the hot summer sun shines on signs and banners they usually fade. Local stores are having great success with sign banner advertising. They are placing these banner signs on their buildings. So that when people drive by they take notice of their banner advertising. Many times businesses will rotate there banners so that the banners are always showing fresh advertisement.
Las Vegas trade show sign banners are also popular. So many Las Vegas signs and banners are needed for the event venues. Vinyl banner signs are one of the most economical signs to use at these events. So at the end of the event the sign banners can simply be thrown away instead of being packed up and shipped back home.
Las Vegas banners will last a long time and can be rotated. So your marketing message is always fresh. Your local Las Vegas banner store will have more information on these low cost sign banners. They are a Las Vegas cheap sign that will give you great results.