Portable banner displays Vegas are versatile and lightweight marketing signs. They are being used to showcase messages, branding, and promotional content. At Las Vegas events, trade shows and exhibitions. Also for retail spaces, and other marketing environments. So they are designed for easy setup, transportation, and storage. So thus making them a popular choice for businesses and organizations looking to create a visual sign and solid presence.
Different Types of Portable Banner Displays Vegas
Retractable Banner Stands: These are one of the most common types of portable banner displays. They consist of a base unit that holds a rolled-up banner graphic. When needed, the banner can be pulled up and attached to a support rod, creating a vertical display. Retractable banner stands are easy to set up and only take a few minutes or less. These banner stands come in many different sizes.
X-banner Stands: X-banner stands feature a tripod-like design with arms that form an "X" shape. The banner is attached to the arms using grommets in the corners. X-banner stands are lightweight and easy to assemble, and they offer good stability. So these X stand Banner stands are inexpensive.
L-banner Stands: L-banner stands consist of a vertical pole and a horizontal bar at the top, creating an "L" shape. The banner is attached to the top and bottom bars using grommets or other fasteners. L-banner stands are simple to set up and provide an elegant display.
Pop-up Display Signs: Pop-up banner displays are larger and more elaborate portable banner systems that use a collapsible frame to support the banner. They are often used as backdrops for trade show booths or larger display areas. Pop-up displays are more substantial but still designed for easy transportation and setup.
Tabletop Banner Stands: These smaller banner stands are designed to sit on tables or counters. They are great for displaying information at eye level when table space is limited. So they are compact and take up very little room on a trade show booth table.
Outdoor Banner Displays: Some portable banner displays are designed for outdoor use and are made from materials that can withstand weather conditions.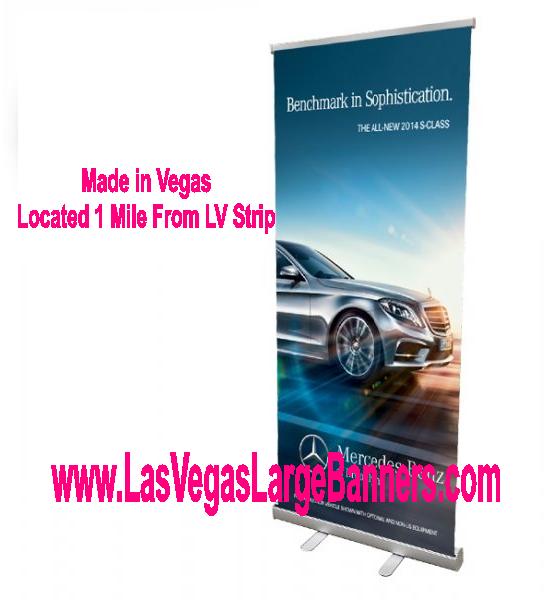 Why Choose Portable Banner Stand Signs ?
Portability: These displays are designed to be lightweight and easy to transport, often coming with carrying cases.
Quick Setup: Most portable banner displays can be set up by one person without the need for special tools or skills.
Cost-Effectiveness: They offer a cost-effective way to create visually appealing displays without investing in elaborate setups.
Customizability: Banners can be printed with custom graphics, text, and branding to suit specific marketing needs.
Reusable: Portable banner displays are durable and can be used for multiple events, making them a sustainable marketing solution.
When choosing a portable banner signs, consider factors like the intended use, location (indoor or outdoor) and size requirement. Also graphic quality, and budget. So working with a professional sign printing and production company can help ensure you get the right solution for your marketing plans.