Las Vegas Vinyl Banners are used at conventions and trade shows. Thousands of trade shows and conventions are held annually in Vegas. Therefore, these shows attract millions of participants. As a result, thousands of companies come to Vegas to represent the newest products. These companies need many types of signs. Banners, banner stands, and other signage are needed for display at these conventions.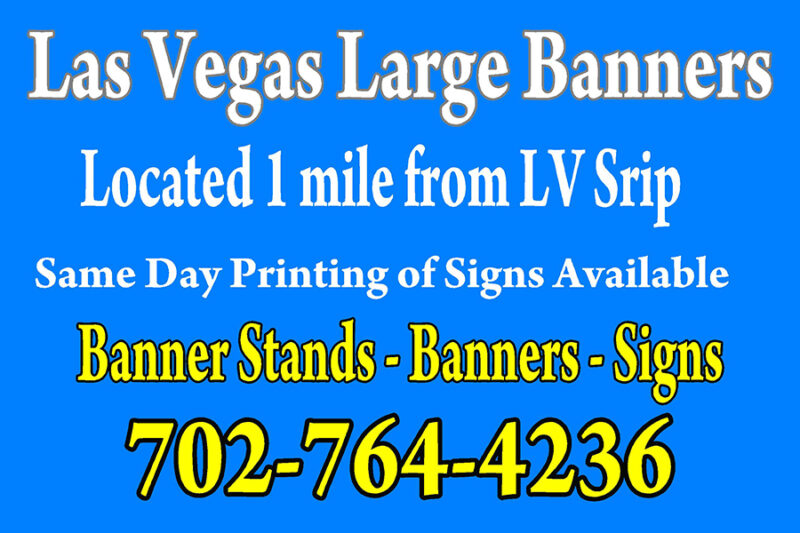 Las Vegas Vinyl Banners are Popular at Conventions
Las Vegas vinyl banners are custom printed sign banners that can be any size and any color. These custom printed banners can be as small as 1 foot by 2 feet and as large as 10ft tall by 50 feet long. Companies displaying at the conventions use these vinyl banners as advertising. They will display these vinyl banners at the back of their booths. People walking by can then see the banners as they pass by. Las Vegas vinyl banners are also displayed on the sides of booths so they can easily be seen.
Make vinyl banner any color you like. Large format printers print a variety of colors. Logos. pictures and background images are no problem for modern day printers. Printing same day banners is available. Banners get damaged .
Vinyl banner signs help you promote your business or event. Firstly, they are cheap in price. Secondly, they contain a lot of information and can have pictures printed on them. Thirdly, sign banners are easy to display. As a result, custom banners are very popular. Banner signs are available at Las Vegas sign stores. Many sign stores cater to the conventions and trade show industry. Choose a sign store close to the Las Vegas strip. It allows for easy delivery or pickup of your signage. As a result, you will have a more successful convention event.