Las Vegas vinyl banner signs are great for local businesses looking for exposure. These vinyl banners are a low cost approach to advertising. Local stores are placing these Vegas banners on their buildings to draw the attention of people passing by. So they are doing this type of advertisement with great success.
Many local businesses near the freeways are placing large vinyl banners on their buildings. So that these advertising banner signs can be seen from far away. As people are driving by they take notice of the large banners and patronize the business. As we have all been stuck in morning or evening traffic and look around to pass the time. These large banner signs get noticed and are an effective form of advertising. Once the banners are installed, they can last for well more than a year. This equates to advertising your business for just pennies a day.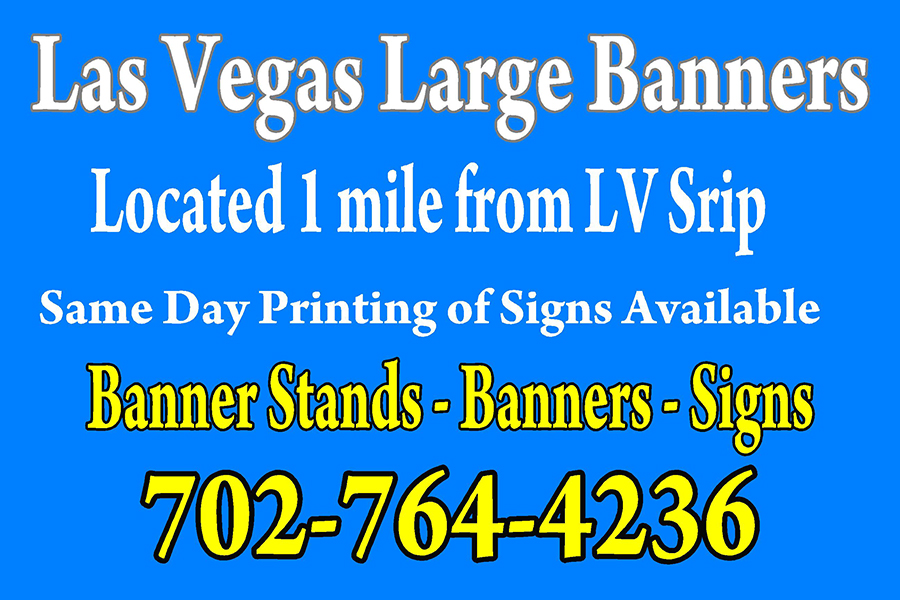 What Size Do Las Vegas Vinyl Banner Signs Come in ?
Las Vegas banners come in a variety of sizes to meet your marketing needs. So from a simple 1ft tall by 3ft wide to a 10ft tall x 50 ft wide banner. These Las Vegas vinyl banners are printed in full color. So you can have as many colors on the vinyl banner you like. Also the banners come with hemming on the perimeter and grommets. But for Las Vegas step and repeat banners you can also have pole pockets at the top and bottom.
Las Vegas banners are also used extensively at events and shows in Vegas. These cheap vinyl banner signs can be used for an event and then simply thrown away afterwards. Or they can be rolled up and taken back home for another event. Contact a local Las Vegas banner store for more information on these full color banner signs.