Las Vegas tradeshow banners are a very popular graphic at the many trade shows held in Vegas. These custom trade show banners can be made to any size to meet your marketing needs. These trade show banners can be as small as 1ft x 2ft or as big as 10ft tall x 100 feet wide. The trade show banners are full color. Meaning you can have as many colors on the banners as you like. So this also includes trade show banner printing with pictures and images on the banner sign. The banner printing can be done fast and cheap. Modern banner printers can print faster than ever before. Also with the highest quality. The technological advances in trade show sign printing has been enormous over the last few years.
The inks used in convention banner printing are environmentally friendly and ecologically sound. The vinyl banners can be used both for indoor and outdoor use. The inks will last a long time. The inks also bring out the bold colors of your design and make the banner print vibrant.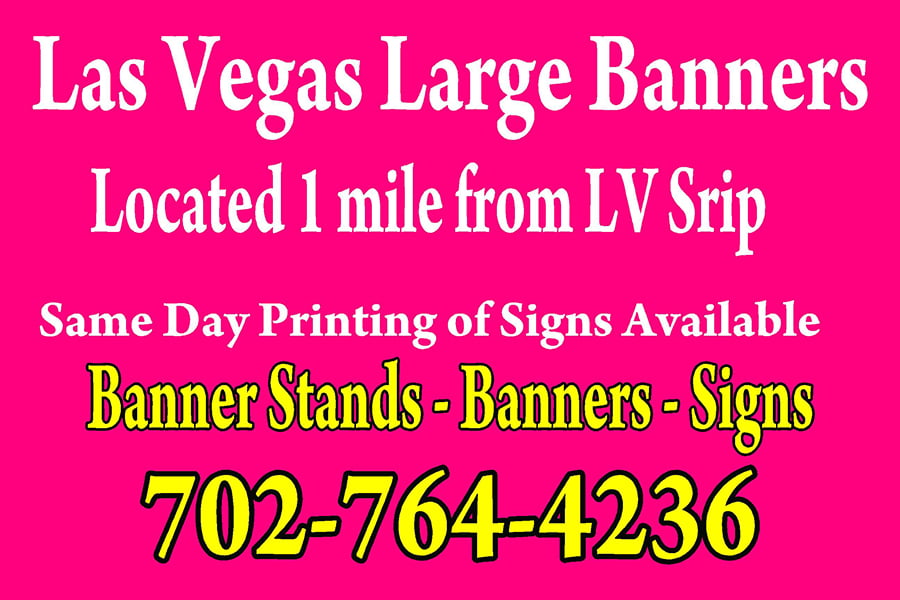 Rush Banner Printing Can Get Your Las Vegas Tradeshow Banners Printed Fast.
The modern banner printing printers can print several hundred square feet of material an hour. These printers can print with higher quality than ever before. So with the fact that more banner signs can be printed pr hour, the cost of producing a vinyl banner has gone down. So this savings has been passed on to the customer. All banners are full color and come with hemming on the perimeter for additional strength. Then grommets are placed every two feet on all four sides . So that it can be displayed easily. There is an option where you can have pole pockets at the top and bottom. So in case you are using a pipe and drape type display system.