Las Vegas large backdrop banner is gaining in popularity at the trade shows and events held in Las Vegas. These large trade show banners are being placed at the rear of trade show booths. So they are designed to get people's attention as they walk by. These imposing canvases not only serve as eye-catching signage. But also as effective branding and communication of your products and services.
Large backdrop banners are being used in many different venues. From corporate events and trade shows, conventions and conferences. They are also being used at night clubs for step and repeat banners. The tourists love to have their pictures taken against the name of the night club . So as to show off to their friends and family. Their versatility lies in their ability to transform any venue into a visually captivating environment. So a properly designed backdrop banner can change the atmosphere and convey the intended message. Whether its a step and repeat banner for picture taking or a large banner for marketing purposes.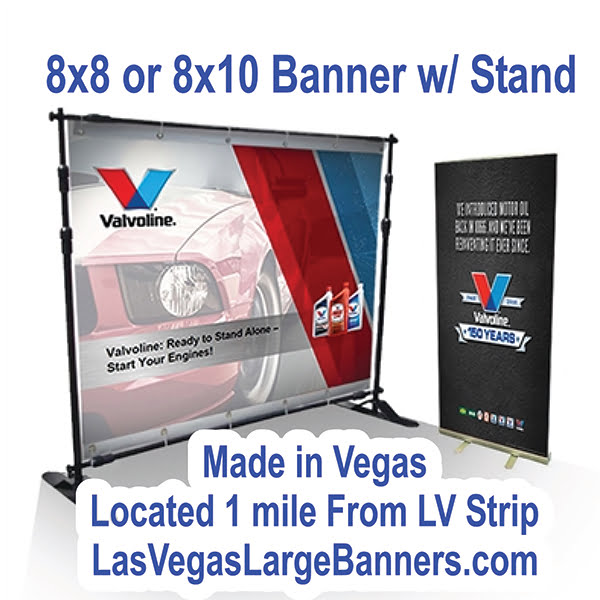 How To Create A Las Vegas Large Backdrop Sign.
Size and Proportions: The size of the sign banner is very important. Las Vegas banners need to be large enough to dominate the space. But not so large that it becomes overwhelming.
Branding and Messaging: Incorporate your brand's logo, colors, and key messaging into the design. Create your large banner with your brand identity ( company colors ) helps reinforce brand recognition and keeps continuity in your marketing message
Clear and Concise: Keep the design clean and uncluttered. Avoid excessive text and complex visuals that take time to understand. Your text and fonts need to be easy to read and understand.
High-Quality Pictures: Use high-resolution pictures that are clear and relevant to the event or message. Blurry or pixelated images can diminish the professionalism of the banner and diminish your company brand.
Picking The Right Use Of Colors: Colors evoke emotions. Choose your banner sign colors that align with your brand's identity and accentuate your products and ideas.
Las Vegas Banners Are Full Color Banner Signs.
Las Vegas banner printing allows for all the colors to be printed on your Vegas banner. So this also included pictures and logos. As many times at the trade shows and conventions. Displaying companies like to print pictures of their products on the banner with a brief description. So not only does this help identify what your company is selling. It also acts as a informative sign that the attendees can read. So you can also make reference to the trade show banner when you are speaking with the potential client.
Large backdrop banners are powerful tools for communication, branding, and setting the atmosphere for a show. These large banners can be used over and over again at the various events. Simply roll the banner tight so that it does not get wrinkles. These large banners can also be fabric banners as well. The fabric banners are wrinkle free and can be washed after every event. So that they look like new after every show.