Las Vegas fast banner printing can get you those banner signs for the conventions and trade shows. So many times vendors and companies displaying at the event venues need last minute signs and banners. The signs and banners get lost in transit or simply show up damaged. So in these cases the banner signs need to be replaced quickly and at a low cost.
Fortunately there are a few sign companies in Las Vegas that have the ability to make same day banner signs. Large format printers are the key to fast banner printing. The newer large format printers can print with amazing speed and with the highest quality. These newer sign printers are for more advanced than printer from just a few years ago.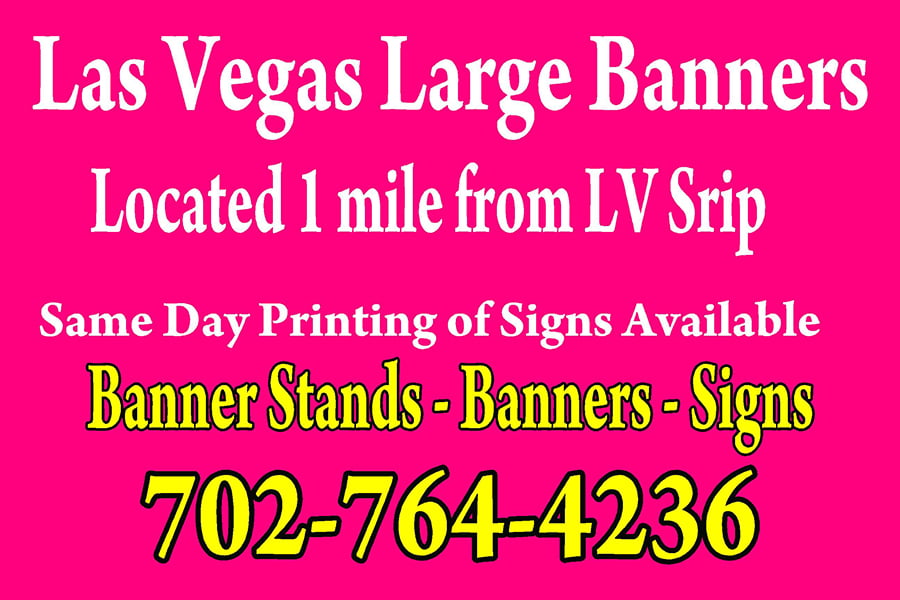 Is Las Vegas Fast Banner Printing Expensive ?
Vegas vinyl banner printing can be made very quickly. Same day banner printing is available in many cases. The Vegas sign stores capable of same day signs and banners are generally located near the convention venues. These Vegas sign stores are companies that service the convention and trade shows and know how to print and make signs fast. Beware of the sign broker who owns no equipment and promise everything. They will walk away from you if they cannot find a legitimate sign shop to print your signs. Las Vegas vinyl banners cost about $5.00 a square foot. This includes a full color banner that can have logos and pictures printed on it. So full color means you can have as many colors you want on the banner.
Las Vegas vinyl banners come standard with hemming on the perimeter for strength. Also the banners come with grommets approx every two feet to make for easy displaying. Your local Las Vegas banner store will have ore information on these banner signs.