Las Vegas Exhibition Backdrop Banners are used quite extensively during the busy exhibition and event season. These backdrop display banners can be custom printed to any size to fit your display booth. Many vendors and companies will place these large custom printed banners at the back of their display booths. So this way when people walk by they will take notice of your marketing message. Many vendors and companies display at exhibitions will use banner printing to print their products on the banners. So this way they can refer to the banner pictures during their sales presentation.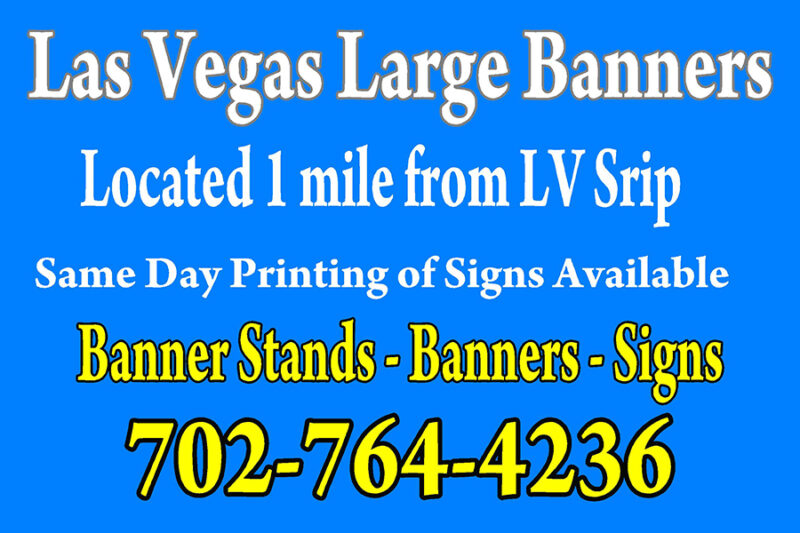 How Are Las Vegas Exhibition Backdrop Banners Made ?
Exhibition vinyl banners are printed on a large format printer using eco solvent inks. These inks are designed to be bright and bold. So they will bring out the colors of your design. The inks are environmentally friendly and ecologically sound. The inks can be used both indoors as well as outdoors. They also resist fading. So that is important where the temperature in the sun is well over 100 degrees for three months of the year.
So after banner printing the banners are hemmed on the perimeter for additional strength on the edges. Then grommets are placed on the perimeter on all four sides for easy displaying. Pole pockets can be placed at the top and bottom if you intend to use the banners with a pipe and drape type stand. The event banner signs can be printed to any custom size.
Many vendors and companies displaying at the exhibitions and shows prefer to have their signs and banners made in Vegas. So this way they save on expensive shipping. It also cuts down on the risk of receiving damaged signs. Also some times the signs and banners do not show up on time. Same day exhibition banners are also possible in emergency situations.