Las Vegas event signs are in big demand in Las Vegas. There are hundreds of events and shows held in Las Vegas every year. These events attract hundreds of vendors and companies who display their products and services. So in return the events attract millions of visitors to Las Vegas annually. These participants drive the Las Vegas economy. As a result Las Vegas has three very large event venues with over one million square feet of space. So these event venues can hold the biggest and best conventions from around the world.
So many signs and banners are needed for these events. There is actually a very strong sign industry as a result of all the events and shows. Trade show banners and trade show signs are in big demand year round. Vinyl banners and pull up banner stands are very popular at these events. The banners can be displayed easily and the banner stands are self standing. So that means you can place them anywhere and they require no support to be displayed. The banner stand come in a multitude of sizes. The vinyl banners are custom printed to any size you like. The sign banners are full color. So that means you can have as many colors printed on the banner signs as you like.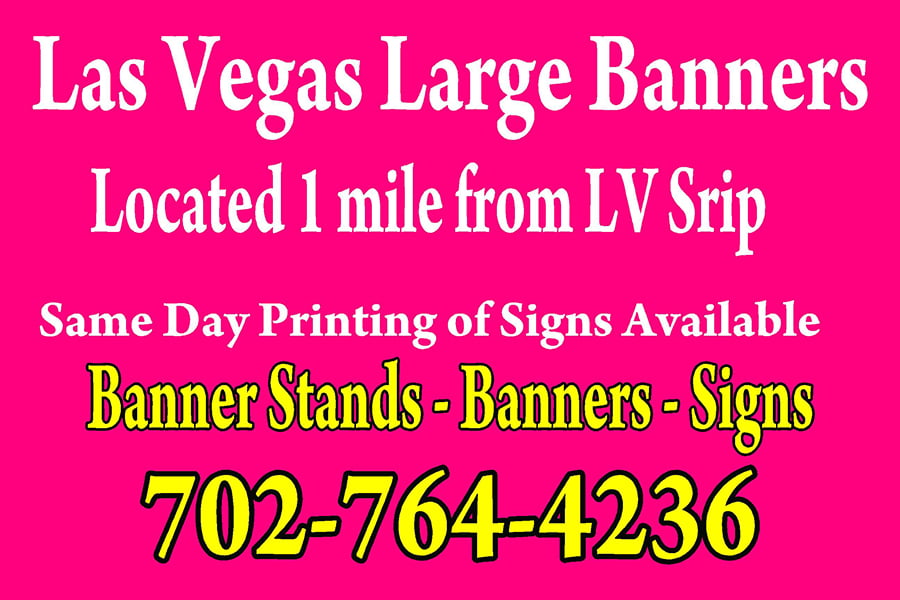 Same Day Las Vegas Event Signs Are Possible
Many times vendors and companies come into Las Vegas for a show and do not have their sign graphics. The Vegas event signs will get lost or damaged. In some cases the signs do not show up at all. Fortunately thee are sign companies in Vegas that have modern printers capable of fast banner printing. These large format printers can print signs or banners fast and very economical. So contact one of these sign shops if you should need fast same day signs.