Las Vegas event signage is needed for the many events that happen in Las Vegas. So every year there are hundreds of events and shows that draw millions of interested people from around the world. Hundreds or companies and vendors display at these shows. So as to let the people know what is new in the industry. These millions of people drove the economic engine of Las Vegas. There are three very large convention venues in Las Vegas with well over one million square feet of floor space. These convention venues are large enough to hold the biggest conventions in the world. So these facilities are state of the art. That is why everybody like to hold their events and shows in Vegas.
Las Vegas sign shops keep busy making signs and banners for these events. Retractable banner stands and foam board signs are just a few of the signs that are needed for these events. The foam board signs make wonderful temporary signage and are cheap to print and make. The retractable banner stands are very portable signs that can be placed anywhere. The banner stands are self standing and require no support to be displayed.Event backdrop display signs can be purchased in a kit form. These backdrop signs come in the popular 8ft and 10ft sizes and are easy to assemble. Many companies and vendors prefer a backdrop display banner and a couple of banner stands for their marketing props. So this way they can set up their display booth signs themselves without any expensive union labor.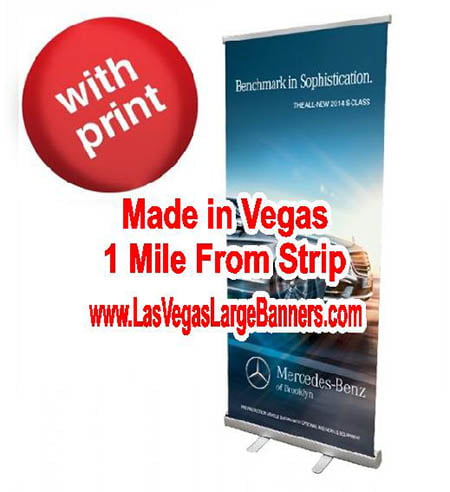 Las Vegas Event Signage Can Be Made in Las Vegas
So many companies prefer to just have their signs and banners made in Las Vegas. So this way they avoid expensive shipping and the possibility of lost or damaged graphics. Lost graphics and damaged graphics happen all to frequently. So vendors and companies like to know that their signs and banners are waiting for them upon their arrival.