Las Vegas dust signs are mandated by the Clark County Dept of Environment and Sustainability. This govt agency requires a dust permit sign on construction properties. The Vegas dust sign needs to have certain information on it. The govt. is very specific to the size of the lettering and the information on the dust control sign. For example, the permittee and construction company's name has to be on the sign. So does the acreage, expiration date and the permit numbers. Then contact information has to be printed on the sign so that if you are in violation, people can report you.
The standard size requirement for the Las Vegas dust control sign is 4ft x 4ft. The sign is printed on a vinyl application, laminated and then applied to a double sided aluminum panel. This double sided aluminum panel has a filler panel that gives the sign rigidity. So otherwise, the dust permit sign can be placed on 1/2″ thick MDO wood. Most of the construction companies prefer the aluminum signs becasue it only takes one person to install it. The heavy wood dust sign takes two people. Also invariably the dust sign gets run over by equipment on the job site. The aluminum sign can be straightened out and put up again. The wood dust sign will crack in pieces and a new one will have to be made.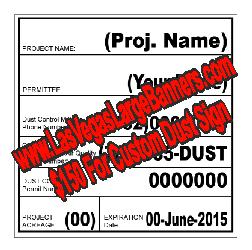 Las Vegas Dust Signs And No Trespassing Signs Are Needed By Contractors
Besides the dust control signs, many contractors will or need to post No trespassing signs on the construction site. So this will help with liability for people wandering on the property and getting hurt. These No trespass signs are generally 18×24 No trespass signs made out of aluminum. So this way the Vegas signs will not rust in the different weather that Southern Nevada has.