Las Vegas custom vinyl banners will get you that custom printed banner sign for your business in Las Vegas. During these tough economic times its important to stretch your advertising budget. So many local stores are going " old school" and placing vinyl banner signs on their buildings to get the attention of people passing by. No longer are advertising banners just for holiday sales. So local stores are displaying advertising banners for everybody to see for just pennies a day.
Smart businesses located close to the freeways are placing large vinyl banner signs on their buildings. So this allows motorists driving by the opportunity to notice your signs. Rush hour traffic is slow and people are always looking around while stuck in slow traffic. So these people will see your signs and banners and take notice of who you are and what you are selling. This method of advertising using custom banner signs has brought HUGE results for businesses.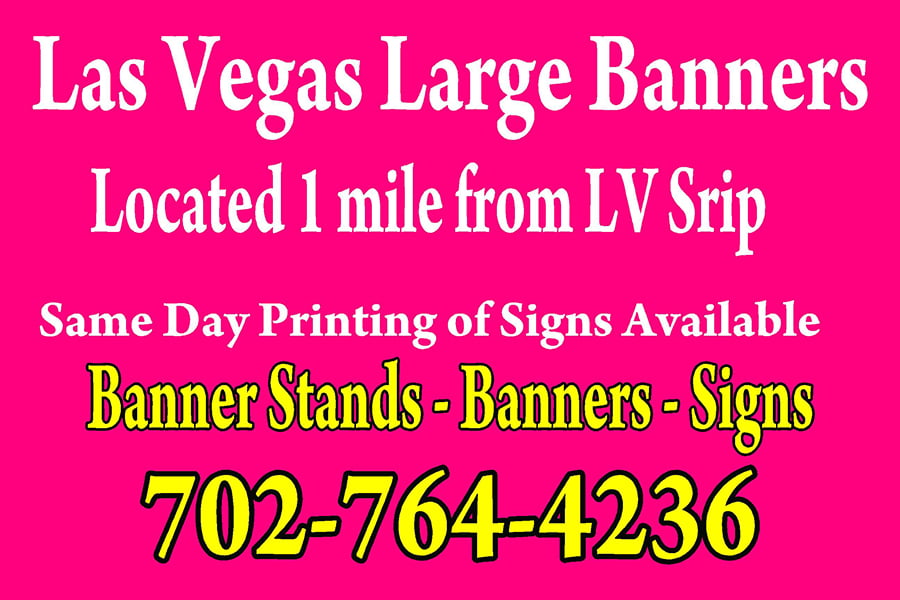 Las Vegas Custom Vinyl Banners Come in Many Sizes
Vegas banner signs come in many different sizes. There is no standard size banner sign. The banners come on a roll of material and is printed on. So the size of the banner depends how much and how big you want your banner. Your banner sign can be as small as 1ft x 2ft all the way to 10ft tall x 70 feet long and longer. The vinyl banners can be printed in all sorts of colors and combination of colors. The vinyl banners are finished off with hemming on the perimeter and grommets placed every two feet on all four sides. So this allows for easy mounting of the vinyl banner sign for display. So your local Vegas custom banner sign store will have additional information on these vinyl banners. Same day banner printing is also available in many cases.