Las Vegas custom large banners can get you that big vinyl banner the way you want. These big vinyl banners can be custom made to any size you want. So these custom big banners can also be printed with whatever you want on the banner. So if you want a picture printed on the banner it is not a problem. If you want just a text banner that is no problem either.
There is quite a demand for Las Vegas large vinyl banners. The conventions and trade shows utilize these big banner signs as part of their display. So these large banner signs do impress. The vendors and companies will place these very large banners at the back of their display booths. So that when people walk by they will take notice of what is advertised on the banner. The enormity of the vinyl banner sign draws attention that a normal sign could not.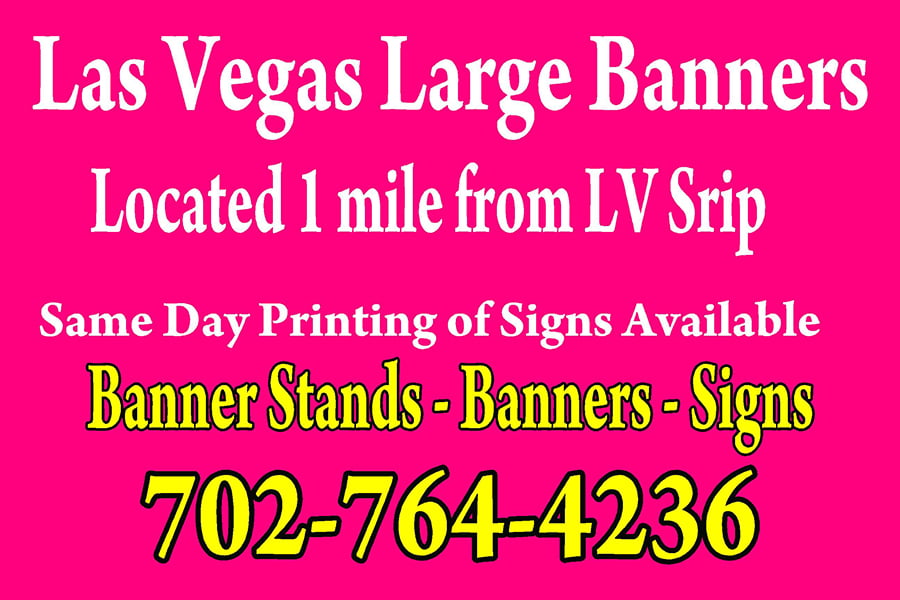 How Are Las Vegas Custom Large Banners Made ?
Large banners are printed on large format printers capable of printing at several hundred square feet an hour. These Las Vegas large banner signs can be printed in many large sizes. So a 10ft tall by 50 foot long banner in full color is not a problem. These banners can have one color or several colors printed on them. So in addition the large banners can have images and pictures printed on them as well.
The large vinyl banners are finished with hemming on the perimeter. This allows for additional strength on the edges where the grommets are installed. The grommets allow for the banner to be displayed easily. Many local Las Vegas stores near the freeways are placing very large vinyl banners on their buildings . So that the banners can be seen by the cars going by on the freeways. The big vinyl banners act like a billboard. But without the monthly rental fees.