Las Vegas Convention Center signs are needed at the Las Vegas Convention Center. Las Vegas is the king of conventions and trade shows. More trade shows and convention happen in Las Vegas than any other place in the United States. So at these events many Las Vegas convention signs are needed. Foam core board signs and retractable banner stands are just a few of the signs needed. Convention backdrop sign displays are also very popular at the Las Vegas Convention Center.
All these types of signage come in many different versions. So banner stands come in many sizes. These banner stand sizes range from approx 24″ wide to around 57″ wide. So they also come in different heights along with economical and deluxe versions.
The convention booth sign displays also come in a variety of sizes and shapes. The large 8ft sign backdrop sign displays come in a straight or curved version. So the 10ft backdrop sign displays also offer the straight or curved version as well. So both these Vegas trade show booth sign displays are easy to set up. They both come with a travel bag so you can just walk into a convention venue with them. They are easy to set up and take less than 10 minutes.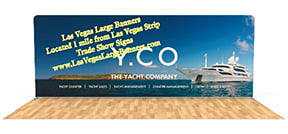 Las Vegas Convention Center Signs Are Made in Vegas
Vendors and companies like to order their signs and banners from Las Vegas sign companies. This way they know the signs will be ready for pick up when they get to Las Vegas. So otherwise they have to pay shipping and hope that the delivery company does not damage their signs. Or worse, not deliver the signs in time. There are many sign shops in Las Vegas that make trade show signs. Generally they are located near the convention facilities to expedite pick up or delivery.