Las Vegas big convention banners are being used at conventions and trade shows to get attention. These Las Vegas large banner signs are a great way to bring attention to your company and display booth. So sometimes the companies will hang these big banner signs from the venues rafters. So that way everybody in the facility can see them and take notice. In other times they will place these large vinyl banners at the back of their display booths. So that way when people walk by they cannot help but notice your marketing message.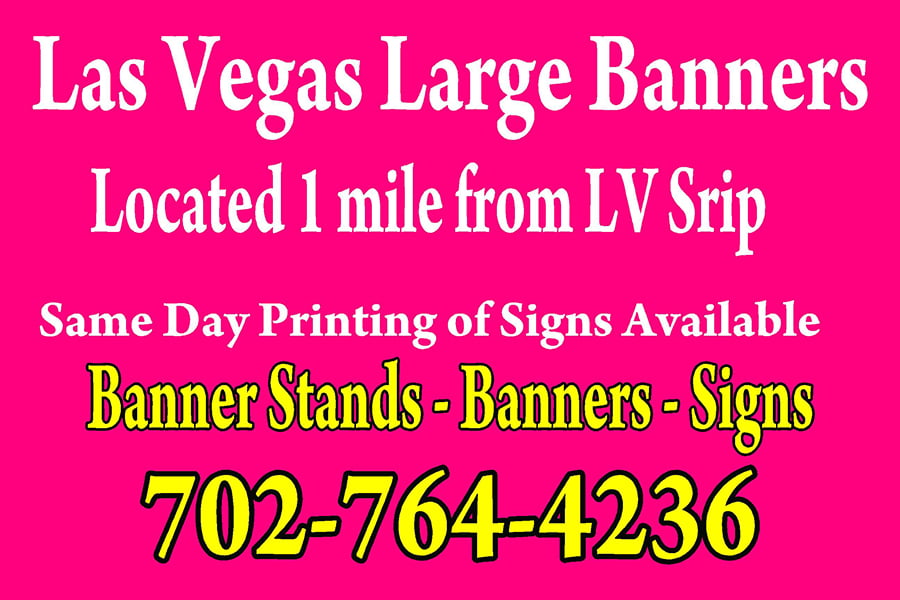 How Are Las Vegas Big Convention Banners Made ?
Big convention banners are printed on large format printers in any color you like. So that means you can have multiple colors printed on the banner. Also images and pictures can be printed on the large vinyl banner signs. Many companies and vendors choose to print the pictures of their products on the large banners. So as to entice the attendee to take notice of their products. The products help identify and attract people to their display booth.
These large vinyl convention banners can be hemmed on the perimeter for extra strength. So they can also be made with pole pockets at the top and bottom. A pole pocket is usually 2 or 3 inches and allows a pole to slide through the pocket in order to be displayed. The pole at the bottom of the big banner allows weight and tension on the banner to keep it straight. The inks used are special inks that last a long time. So the banner can be used in both indoors as well as in a outdoor setting. The inks bring out the bright vivid colors of your design.
Customers tend to use Las Vegas banner sign companies to print their large banners. As shipping of the vinyl banner can be expensive and troublesome.