Las Vegas banner maker can do your Las Vegas banner printing and get you your vinyl banners fast and cheap. So that is because modern sign makers in Las Vegas have state of the art large format banner printers. These banner printers are capable of printing vinyl banners faster than ever before. Also with higher quality than ever before. These new printers are capable of printing banners at several hundred square feet per hour. So this has actually lowered the cost of producing banners. This increased production has resulted in lower prices for customers.
The inks used for Vegas banners are environmentally friendly and ecologically sound. They are long lasting and bring out the bright and vivid colors of your design. A vinyl banner has a life expectancy of over one year in the Las Vegas sun. Your Las Vegas banners under certain conditions can last many years. So it seems that all signs and banners facing the west have the shortest life expectancy. That is becasue of the intense heat and exposure the signs get facing the west. The Las Vegas signs and banners facing north have the longest life expectancy. As they do not get the intense heat and exposure of the Las Vegas sun.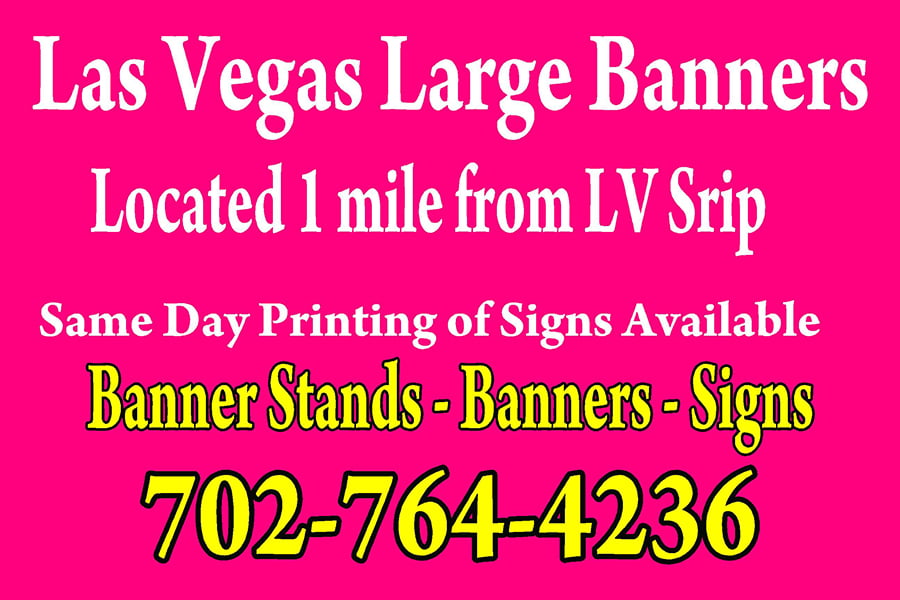 Las Vegas Banner Maker Can Make Same Day Banners
Same day banner printing is a possibility in Las Vegas. There is much competition for your sign business. Las Vegas has many sign banner shops that service the trade shows and conventions. They also service the local businesses. Thousands of banners and signs are made each year for the events and shows. Not to mention the amount of signs the casinos require.
So if you should find yourself in need of vinyl banners or same day banner signs, give a call to your nearest sign shop for more information.