Las Vegas affordable banners are ready to be printed in Las Vegas by local Vegas banner printers. Las Vegas has many sign stores. That have modern sign printers capable of producing banners and signs very quickly. These large format printers print vinyl banners at amazing speeds with the highest quality. So because of the fast banner printing, the cost of banner signs has actually gone down. Since faster banner printing equates to more banners made per hour.So generally speaking the sign shops with this type of printing equipment are located near the Las Vegas strip and trade show venues. This allows for fast pick up or delivery of the vinyl banner signs.
There are many banner shops that can produce your vinyl banner signs in Vegas. So this is because of all the trade shows and conventions that are held in Las Vegas. These events bring millions of people from around the world and thousands of vendors. The biggest and best companies from around the world come to Vegas to show off the newest products and gadgetry. So all of this means that many signs and banner stands are needed for display at these events.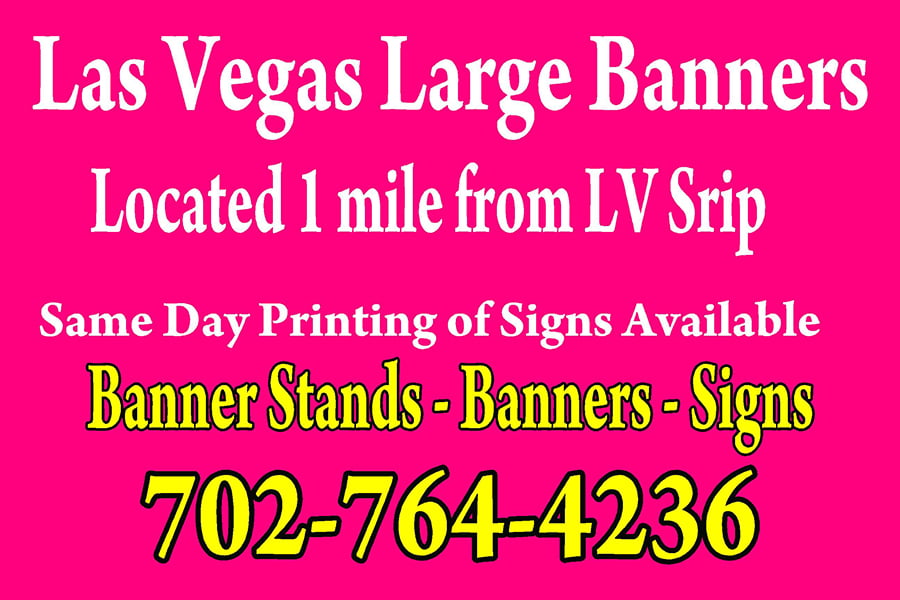 How Are Las Vegas Affordable Banners Printed ?
Las Vegas banners are printed on a 13 ounce vinyl banner material with eco solvent inks. So these inks are long lasting and will hold up to the hot Las Vegas sun. The banners can be used both indoors and outdoors. After printing the vinyl banners, the edges are hemmed for reinforcement. So then grommets are placed thru the hem take make it easy to display.
These Vegas vinyl banners are full color banners. So that means you can have as many colors on the banner as you like. This also includes the printing of pictures and images on the banner as well.