Las Vegas 8ft banner printing will get you those popular 8ft x 8ft banners and 8ft x 10ft banners. These two banner sizes are popular at trade shows and conventions in Vegas. So this is because they fit perfect in the back of the display booths at the convention venues. You can purchase an adjustable banner stand to hold up the banner. So this makes them very popular at the event venues. The banners can be finished with pole pockets or grommets. The pole pockets allow for a pole to slide between the pockets to support the displaying of the banner.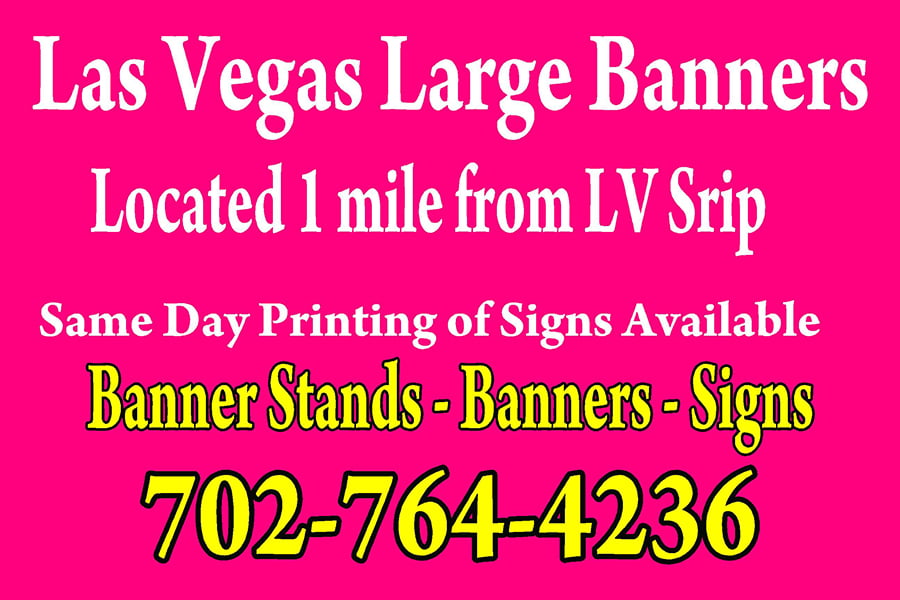 Las Vegas 8ft Banner Printing Is Great For Local Businesses
Las Vegas 8ft banners are also being used by smart businesses and stores in the Las Vegas valley. The stores are using these large banners as a means to advertise to people driving by their stores. The stores are placing their marketing message on the banners and hanging or displaying these banners from their buildings. So as the people drive by they see the large banners and what they have written on them. Anybody in Las Vegas can tell you that traffic has increased a lot over the last five years. The Nevada Dept. of Transportation states that several thousand cars drive the major streets of Vegas every single day.
For local businesses next to the freeways, this is a major plus to have a large 8ft banner on their building. The stores will place a large 8ft tall x 25 foot long banner on the back of their buildings. So when people are driving by on the freeways they see the advertisement. The large banner signs act as a billboard but without the monthly rental fees. So once installed these banner signs will last well more than a year. it just costs pennies per day to be seen by thousands of people every single day.