The 24×63 X banner stand is a economical banner stand. These X banner stands are used at different events as stand up banners. Vendors like these signs because they are incredibly easy to set up. Also, the X stand banners are low priced. So low price banner stands and easy set up makes them a crowd favorite.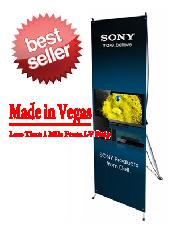 Vegas 24×63 X Banner Stand Can Have Banners Swapped Out Very Fast
The X Stand Banners can have the print graphics swapped out. So you can have a unique graphic for every event and use the same X stand frame. The sign graphics are held onto the X stand banner stand by hooks in the four corners of the banner. A grommet is placed on the corner and a hook simply goes through it. The tension on the X frame keeps the graphic display tight and wrinkle free. So once the X stand banner frame has been purchased, you can simply just buy the graphics.
Vegas banner stands are popular at the Las Vegas Convention Center. Also at the Mandalay Bay Convention Center. You can walk through a convention at one of these venues and see the X stand popularity. In cases of emergency, the X stand graphics can be printed the same day. So this allows for last minute changes in marketing strategies before the convention or trade show begins.
The 24″ x 63″ X stand banner sells for around $69.00. Also the larger 32″ x 72″ X stand banner sells for around $79.00. Regular retractable banner stands start off at around $125.00 for a large banner stand model. The X stand banner displays all come with a carrying case. So that travel and transport is easy. Set up time is around one minute for these trade show signs.
Contact your local Vegas banner store for more information on these banner stand signs.