Large banner sign printing Vegas can lead you to those big vinyl banners needed for your event. Whether it is for a large indoor banner or large outdoor banner. These large banners are very popular at outdoor events and fairs. Also they are quite popular at indoor events where they display in the background. The vendors and companies displaying at the trade shows love these big backdrop banners at the rear of there display booths. The inks used on these banners are designed for both indoor and outdoor use. They are ecologically friendly and bring out the vividness of your design.
The inks are designed to print bold and vibrant colors. As you want these vibrant colors printed on your banner signs in order to get attention. Also, using high quality pictures will help people understand and appreciate your offer. Easy to read text and fonts are necessary . So that people can understand what you are trying to tell them.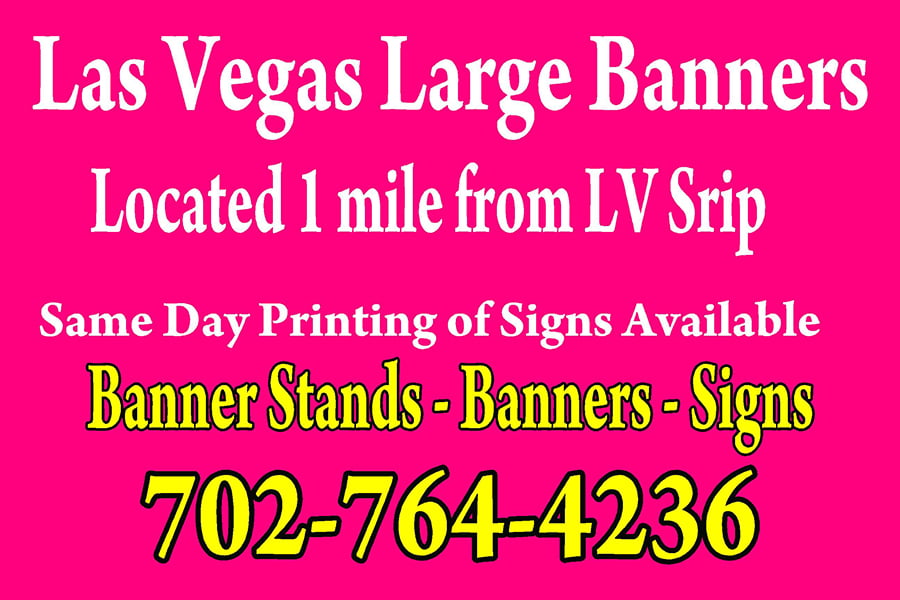 How Are Large Banner Sign Printing Vegas Made ?
Large vinyl banners are printed on a 13 ounce vinyl banner material with special inks that are environmentally friendly. These inks are designed for indoor and outdoor use. So the inks are long lasting and resist fading. The large vinyl banners can be finished with grommets every two feet on all four sides. Or they can be finished with a pole pocket at the top and bottom. So this allows a pole to slide through the pocket to make it easy to display. The most common size large banners are the 8ft x 10ft large vinyl banner and the 10ft x 10ft large vinyl banner. The banners can be used multiple times with exercising basic care.
Rush order large banners is also a possibility in Las Vegas. Many times at events and shows graphics will get lost or damaged. If this is the case, please contact a local 5 star banner sign store to see how they can assist you in replacing your signs. In a 24 hour town you should be able to get a large vinyl banner made rather quickly.
Most vendors and companies coming to Las Vegas for an event choose to have their sign graphics made locally. So this avoids lost or damaged graphics and makes for a more pleasant experience. It also saves a lot of money on expensive shipping of the signs and banners into Las Vegas.