Exhibit banners Vegas get you those Las Vegas banners for your exhibition event. Many exhibitions and events take place in Las Vegas every year. Las Vegas is a top tier destination for trade shows and conventions in the world. So many people want to come to Vegas to participate in these events. Millions of people from all over come to these events. Thousands of vendors and companies from all over display their product lines to the people. The Consumer Electronic Show is one of the biggest conventions in the world. This event takes place every January in Vegas and attracts thousands of people. The world's biggest electronic companies show case their products at these events.
There are three big event venues in Southern Nevada. The largest is the Las Vegas Convention Center with over 3 million square feet of event space. This facility is state of the art and can actually host several events at the same time under one roof. The Mandalay Bay Event Center and Venetian Convention Center both have over one million square feet of space with modern facilities. Many Vegas banners, Vegas banner stands, foam core board signs and backdrop banners are needed for these shows. Fortunately, there are many sign shops that compete for your business that service the event venues. These sign shops are generally located near the event venues for fast pickup or delivery of signage.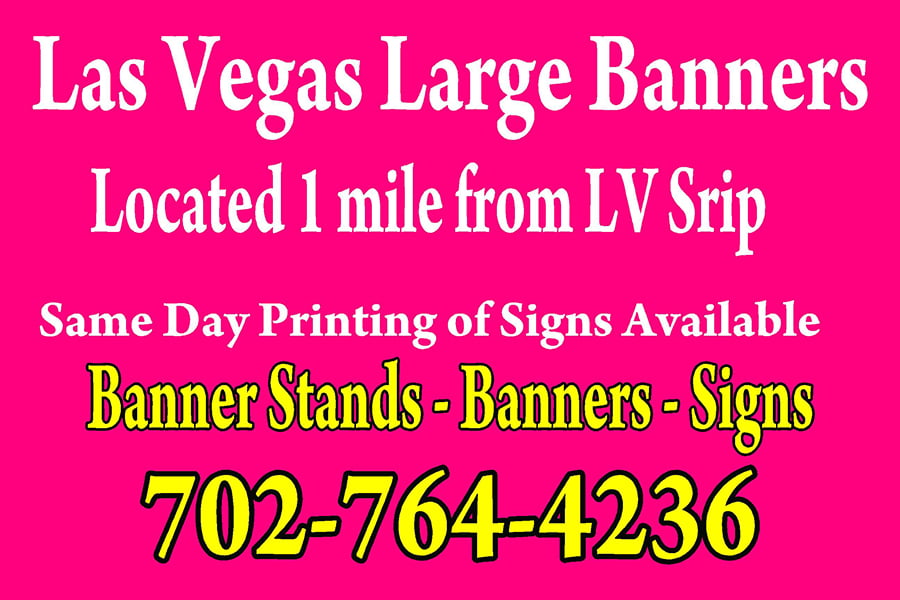 Exhibit Banners Vegas Can Be Made Fast
Same day banners are possible in Vegas. The banner sign companies in Vegas have modern banner printers. These large format sign printers can print banner signs at hundreds of square feet per hour. So that allows for greater production at higher quality. That increased production allows for a lower banner cost. More production per hour equates to a lower production cost.