Dust signs Las Vegas are mandatory on construction sites where dirt is being moved around. So most residential and commercial construction sites require a Vegas dust control sign. The good people at the Clark County Dept. of Environment and Sustainability oversee dust related issues in Vegas. These people are in charge to make sure that dust and dirt going into the air at construction sites is minimized.
The Clark County dust people make it mandatory that a responsible party be in charge of dust at construction sites. This party must take a special dust information class to get certificated for a construction project.
One of the requirements set forth is the responsible party place a Clark County environment and sustainability dust sign on the subject property. This Clark County dust control sign must contain certain information. So this information includes the permittee's name, project name and permit number. In addition the acreage of the project site, expiration date of the permit and contact information for the permittee. The contact telephone number of the responsible party is required in case their are dust issues. So it is best to have them call the responsible party rather than the Clark County dust people. It is always best to avoid government people coming on to your property for inspections and complaints.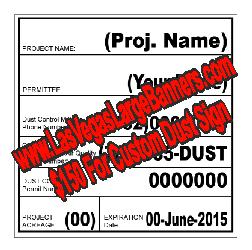 How Are Dust Signs Las Vegas Made ?
Las Vegas dust signs are printed on a big 4ft x 4ft adhesive sticker and then laminated to help protect the sign from minor scratches and scuffs. The adhesive sticker is than applied to a double sided aluminum sheet with a filler panel to give it rigidity. The aluminum panel is weatherproof and will not rust during the different Southern Nevada seasons. These dust control permit signs cost about $150.00 and can be made in just a day or two. Same day dust signs are also available in certain cases.