Dust signage Vegas is needed for new construction sites. The Clark County Dept. of Environment and Sustainability regulate the dust at construction sites. So they have regulations regarding dust going into the air. The dust issue is a big thing in Vegas as lots of dust goes into the air at construction sites. Las Vegas is a desert and the topsoil is loose. On windy days, that is why all people in Vegas have trouble breathing. The desert naturally has lots of loose dirt on the ground. So the good people at Clark county try their best to educate people and keep the dust out of the air. There are Clark County dust classes put on by Clark County to educate. Clark County also requires a dust control sign or dust sign on the location.
The mandatory dust control sign is 4ft x 4ft. It must contain certain information on the dust permit sign in certain text height. So besides that, the permit number, expiration of the permit and acreage has to be included on the dust sign. Also the permittee's name, project name and contact information for Clark County and the responsible party. So this way if there is a dust issue, it can be resolved with the responsible party. If the dust issue is not resolved, Clark County report number is on it and they will get involved. But nobody wants to get the County involved. As it always end up bad for the contractor.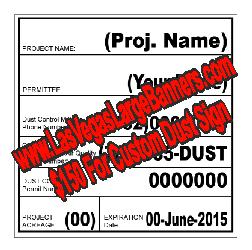 How Is Dust Signage Vegas Made ?
Dust signs are printed on a vinyl application , laminated and then applied to a double sided aluminum panel. A wood panel can also be used for a substrate in high wind areas. The contractors like the aluminum signs because it can be installed by one person. Also the dust sign usually gets run over once or twice at construction sites by the big equipment. So then they just simply straighten out the sign and put it back up. As a wood dust sign splinters and has to be replaced.