Dust sign Las Vegas is a good search term to use when you are looking for a dust control permit sign. These dust signs are required by the Dept. of Environment and Sustainability in Clark County. It is their job to see that the top soil at construction sites. Does not go into the air that we all breathe in Clark County. In fact, Clark County makes it mandatory to have a responsible party at a job site to go to dust control classes. So they can learn how to keep the dust out of the air. They need to learn all the techniques to make sure we have clean air to breathe. there are many other additioanl requirements. But a dust sign is required.
The required Clark County Vegas dust permit sign needs to be 4ft x 4ft. The Vegas sign needs to have certain information on the sign such as permit number, permittee and contact information. The contact information is the responsible parties telephone number so someone can call them. If not, the govt puts their telephone number on the sign for reporting purposes. The dust control signs also require the acreage, expiration date and the project name along with other pertinent info. Your local Las VEgas dust sign company can answer further questions. Or the Dept. of Environment and Sustainability will be more than happy to assist you. The Vegas dust sign needs to be displayed near the entrance of the construction project and be clearly visible to the public.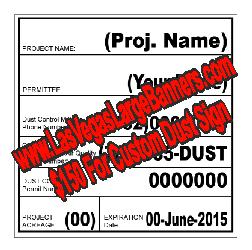 Dust Sign Las Vegas Are Easy and Cheap To Make
The dust signs are easy to make. All the sign company does is place the information into a template and print the results. This sign is then laminated to help protect the print. The turnaround time is usually next day. A dust sign sticker can also be printed if you are a do it yourself type person.