Dust permit sign Vegas is required by the Clark County Dept of Environment and Sustainability. These dust signs are required to help lower the amount of dust. That goes into the air the Clark County residents breathe. Las Vegs has a lot of top soil because we are a desert that the winds move around. Without these restrictions, the top soil after being disturbed would create dust clouds. So the govt requires dust control signs and classes to help limit the dust going into the air. There are specific requirements for these Vegas dust permit signs.
So certain information has to be on the dust control sign. This information includes project name, construction company name and permit number. Also, the expiration date of the permit and contact information. The information has to be on the sign in a standard easy to read font. The height of the letters also has to be a certain height. The signs are usually placed on a 4×4 dibond aluminum panel so they can easily be seen.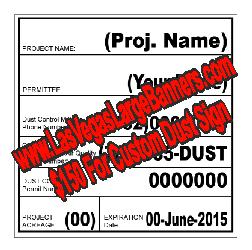 How Is Dust Permit Sign Vegas Made ?
The construction companies like to use aluminum panels for the dust permit signs. So the reason being is that they usually get run over a couple of times at a job site. If you use MDO board dust sign, the wood breaks. The aluminum dust sign can be straightened out and reused. Also, with the aluminum dust permit sign, one person can install the sign becasue it is lightweight. In many cases, the dust control signs can be wired to chain link fences in order to be displayed. Usuallly the dust signs need to be displayed where they can easily be seen.
So contact your local dust control sign company for more information on these dust permit signs. The Vegas signs can be made fast and often same day dust signs can be made in many cases.