Dust control signs Vegas are needed at residential and commercial building sites. The dust is monitored at these sites by the Clark County Dept. of Environment and Sustainability. The Clark County govt. regulates the dust and the contractors must comply with these regulations. One of the regulations is a dust permit sign must be present on the property when construction begins. Fines and construction shut downs can occur if this regulation is not complied with. Many times there are rush order dust signs ordered because contractors got caught without a dust control permit sign.
Certain information needs to be on a dust control permit sign. This information includes permittee name, contractors name and permit number. Also the expiration date of the permit and contact information for the public. So as to report any violation.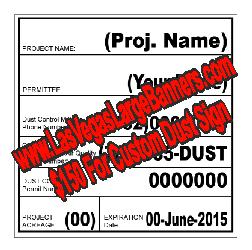 How Are Dust Control Signs Vegas Made ?
Dust control signs are 4ft x 4ft. Just a few years ago they were required to be 4ft x 8ft signs for any project over 10 acres. But the rules changed and Clark County just requires a dust control signage to be 4×4 now. So sign shops print the necessary information on a adhesive vinyl and then laminates it. They than apply the large dust sign sticker to an aluminum dibond panel. A dibond panel is a double sided aluminum panel with a filler panel in the middle to give it strength. The print is laminated to help protect the sign against minor scuffing and scratches.
The construction people like the aluminum signs because so often dust signs get ran over on the job site. So they pick up the signs and straighten them out and put them back up. If you make the dust signs out of wood, the wood breaks and the sign has to be replaced.