Dust control signs Las Vegas may be required by the Clark County Dept. of Environment and Sustainability. This govt agency is in charge of dust and topsoil going into the air at construction sites. It seems that the desert has a lot of loose dirt and dust and when the ground gets disturbed, the dust goes into the air we breathe and creates pollution. So the govt.agency tries to stop this so we all breathe fresh air. So they have many rules and regulations and make responsible parties take a dust control class. One thing they do require is a dust sign to be placed on location. The Clark County Dept. of Environment require a Vegas dust sign on the premises of a construction site. So certain information needs to be on these dust signs Vegas.
The 4×4 dust signs as required need the permittee, project name and permit number on the dust permit sign. Also the expiration date of the project, contact information and acreage involved. The contact information is the telephone number of the responsible party. People will call them if dust is flying around. If they cannot get hold of he responsible party, the Clark County govt. agency number is on the sign as well. But you definitely do not want the govt. people called. You should handle the issue yourself.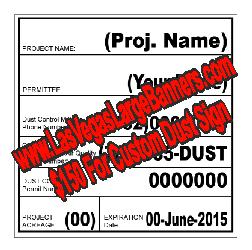 Dust Control Signs Las Vegas Can Be Made Fast
Many times for a variety of reasons the dust signs Vegas need to be made fast. It could be that maybe the dust sign was vandalized or went missing. And so the dust people are asking where your dust control sign is and threatening a work stoppage. Same day dust signs are possible in Vegas. These dust permit signs are easy to make and many sign companies will be able to make them same day.