Dust control signage is required by the good people at Clark County Dept. of Environment and Sustainability. The reason is simple. These good people try to limit the amount of dust and small dirt particles going into the air we all breathe. The dust is a major problem for people living in the desert. The desert topsoil has a loose film of dirt on top. So on windy days or when the top soil gets moved, the dust goes into the air. This creates a health concern for people living in Southern Nevada. So the Clark County govt. designates a responsible party at a construction site in order to limit the amount of dust going into the air. The county makes them take a dust education class. Also the county makes the construction site place a dust sign on the premises where the construction is taking place.
The county requires certain information be posted on the Vegas dust sign. This information includes the responsible parties telephone number, project name and permittee's name. Also the acreage, permit number and permit expiration date must be included. The dust sign Vegas must then be placed in a easily visible site for people to view. The responsible parties telephone number is on the sign so people can call them directly if their are concerns. If not, the county requires their reporting number be placed on the dust signage as well.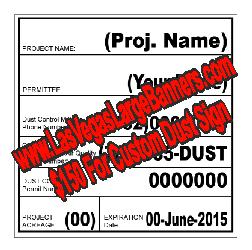 Dust Control Signage Can Be Made Quickly
The typical turnaround for a Las Vegas dust sign is about 1 to 2 days. However, in cases of emergency, same day dust signs are a possibility. The Clark County Dept. of Environment and Sustainability has the authority to fine and/or shut down a construction site for non compliance. So sign shops know that this is terribly exppensive to shut down a site. And will do their best to get that Clark County Dust Sign made the same day.