Dust control signage Vegas is needed at construction sites per the Clark County Dept. of Environment and Sustainability. The Clark County govt. agency is in charge of not letting dust get into the air that Las Vegans breathe. The dust in the desert topsoil gets moved around and the result is that some of it goes into the air. So this gives the air that ugly brown look. The desert is full of a fine dust that covers the desert ground. During windy days the dust is blown around and is in the air we breathe.
So Clark County has tried to limit the amount of dust going into the air. They make all responsible parties at construction sites take dust classes. So as to educate them about the issue and help them understand how to prevent it. Another regulation they have is that all construction sites need to have a dust control sign when they are moving dirt around. These large bulldozers and earth moving equipment can cause issues with dust getting into the air. So they make the job sites get a dust sign. On this dust permit sign needs to be certain information. The permittee, project name and permit number. Also contact information to report violations, the responsible parties telephone number and other miscellaneous information.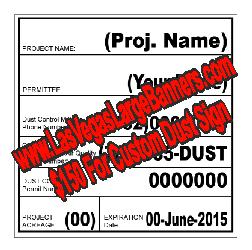 Dust Control Signage Vegas Can Be Made Fast
The dust signs are printed on a vinyl application and then laminated to help protect the print. Then the vinyl sticker is applied to a double sided aluminum panel. The panel has a filler panel in the middle to give it rigidity. The current dust sign size required by Clark County Dept. of Environment and Sustainability is 4ft x 4ft. The Vegas dust signs usually can be made in just a day or two. However, rush dust sign printing is also possible at many Las Vegas sign shops.