Custom vinyl banner printing Vegas helps local Las Vegas stores send the right advertising message. These custom vinyl banners can be made to any size to meet your marketing needs. In addition, these Las Vegas vinyl banner signs can be full color. So that means you can have any combination of colors you want printed on the vinyl banner. Also you can have pictures of products and images printed on the banner sign.
Las Vegas stores are using vinyl banners as an effective way to communicate with their customers. So by placing large vinyl banner signs on their buildings and fences. These stores are getting the attention of people driving by. So with the population increase in Nevada, many new residents are learning what stores are in their neighborhoods. What better way than to have a large vinyl banner that cost just pennies a day do your advertising. These full color banners last well longer than a year in the outdoor weather that Southern Nevada has.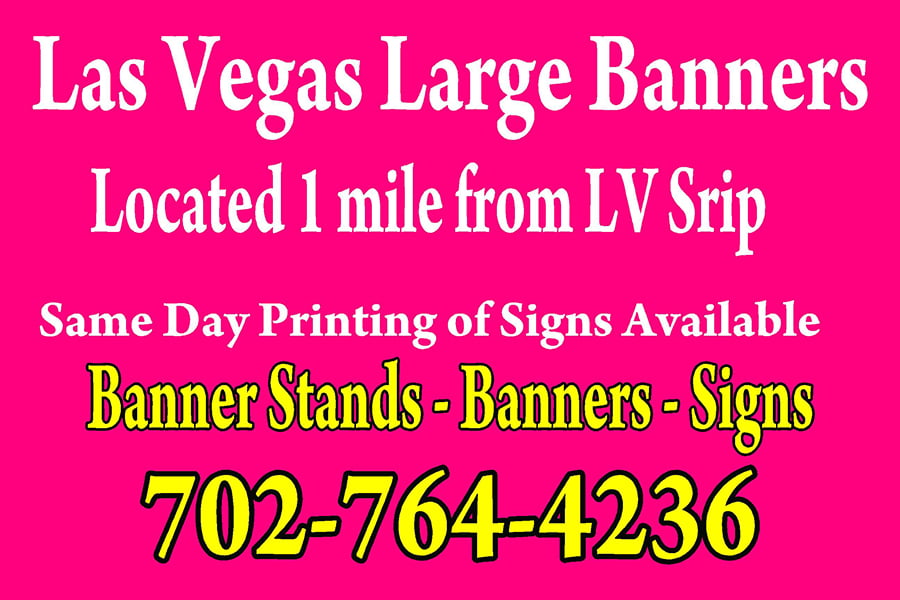 Custom Vinyl Banner Printing Vegas Is Also Needed For Events.
Many signs and banner stands are needed for signage at the event and exhibition venues in Las Vegas. Vinyl banner signs are one of the most common types of signs at these events. The vinyl banners are easy to install and very inexpensive. That is a winning combination for many companies that are only going to use the signs and banners once. So many times the signs are one use only and get tossed at the end of an event. Why pay full price when you just need a temporary sign ? Vinyl banners can be ordered from local Las Vegas sign shops and picked up when you come to town. It will save you on shipping costs and a lot of aggravation.