Custom trade show banners Vegas are in big demand during the busy trade show and convention season in Southern Nevada. The trade show banners are one of the cheapest large signs available. The tradeshow vinyl banners can be custom printed in any color you like. So this includes pictures and logos. The custom banner signs can also be made in any size you like. So if you wanted a 10ft tall x 100 ft wide banner. It is possible to get. However, the 2 most common size backdrop banners for the trade shows and conventions are the 8×8 vinyl banner and the 8×10 vinyl banner.
The convention backdrop banners like the 8×8 banner sign or 8×10 banner fit in the back of the display booths. So this way people as they walk by can look at them. So if they are interested, they will stop and speak with a sales representative. Many of the vendors and companies that do display their products at these events. Will print their products on the large banner and some information about the product. So this makes it very easy for the people to see after a long day at the convention.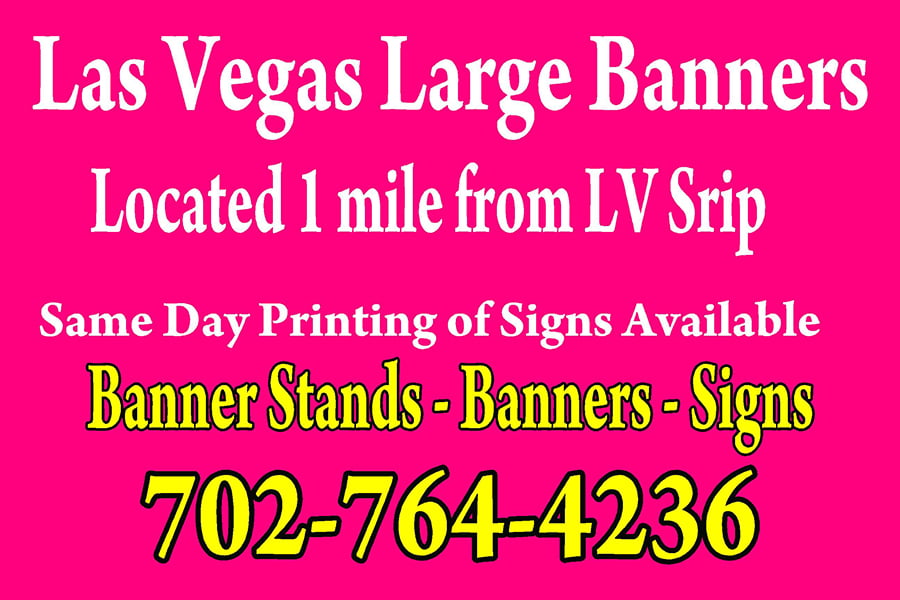 Custom Trade Show Banners Vegas Are Not That Expensive
The cost of Las Vegas banner printing is about $3.00 a square foot for 13 ounce vinyl banner. And about $5.00 a square foot for fabric banner. The fabric banner is wrinkle free and can be folded up. The vinyl banner has to be wound tightly to be transported and takes up a lot of room. Both types of banners can have grommets placed on all four sides. Or the vinyl banners and fabric banner can have pole pockets at the top and bottom. So this allows the banner to be displayed. Your local Vegas sign company will have more information.