Custom outdoor banner signs Vegas can get you those outdoor vinyl banners custom printed. So whether you need a advertising banner or an event banner you can get it printed in Las Vegas. Many local stores are turning to outdoor vinyl banners as a form of advertising. With these difficult economic times stores are placing advertising banners on their buildings. So they are noticed by the people driving by their stores.
These outdoor vinyl banner signs can last well longer than one year in the Vegas area. That is pretty good considering it gets over 100 degrees here for over 3 months a year. The cost of having a large outdoor vinyl banner is just pennies a day. That is cheap advertising. So the stores are getting excellent results from banner sign advertising.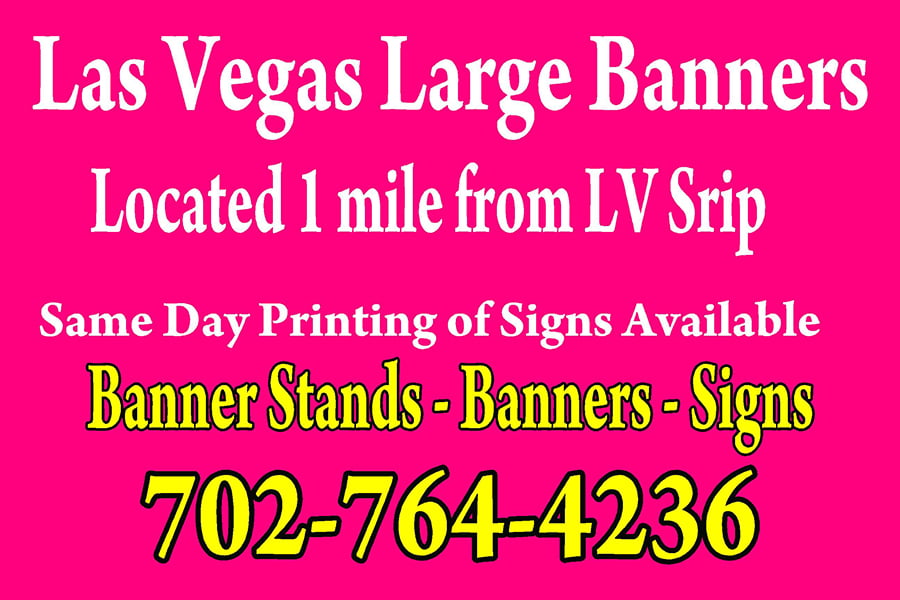 Custom Outdoor Banner Signs Vegas Are Great For Advertising
Many Las Vegas businesses that are located adjacent to the freeways are taking advantage of their location. So by placing a large outdoor banner on their building aimed at passing motorists. The outdoor banner acts like a a billboard. A large 8ft tall x 30 foot wide vinyl banner an be seen from far away. Only once installed, the large banner does not have to pay monthly rental fees like a billboard sign.
These large outdoor banner signs can be full color and have images and pictures printed on them. Full color means you can have as many colors on the banner as you like. The banners are finished with a hem on the perimeter and grommets every two feet on all four sides. So this allows for easy displaying of the banner.
Your Las Vegas banner store will be able to answer further questions on these outdoor vinyl banners. They work great for advertising in these tough economic times.