Custom Las Vegas banners can get you that special vinyl banner sign that you want. So these custom vinyl banners can be any color or size to meet your needs. The banners can be as small as 1ft x 2ft. And large as 10ft tall x 75 feet long. These are full color banners that allow you to print any combination of colors on them. Also pictures and images can be printed on the Las Vegas banner signs.
So these small or large custom banners are finished with hemming on the edges of the banner for strength. So then the banners are grommeted every two feet on all four sides. This allows for easy displaying of the vinyl banner sign.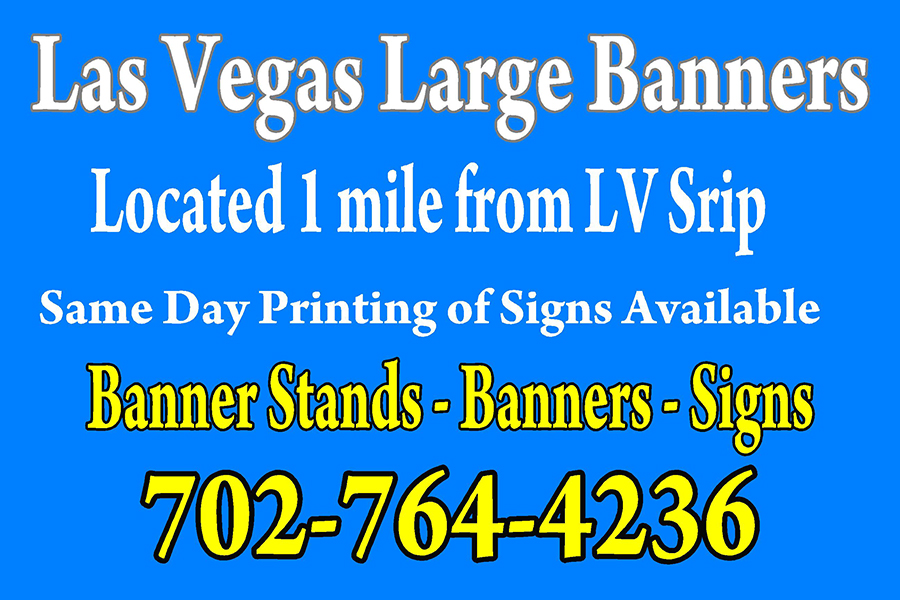 Local Stores Love Custom Las Vegas Banners
Many local stores are turning to vinyl banners as a way to effectively market to their customers. Las Vegas banners are cheap and can be changed out frequently. Many businesses are using these cheap banners to advertise to their customers. The stores are placing these banner signs on their buildings and fences to attract the attention of people passing by.
Las Vegas stores that are adjacent to the freeways are placing large vinyl banners on the back of their buildings. So that they can be seen from far away. So as the motorists are driving by they can see the banners and take notice. Its a bonanza during the freeway rush times where people are stuck in traffic and cannot help but notice your advertising banner. Many stores are very happy with the results of this type of advertising.
Once the banner is made and displayed it acts like a billboard. But without the monthly rental fees. Imagine the results you will get with this advertising method that only cost pennies a day.