Custom business banners Vegas are very important for the local Las Vegas business community. During the covid scare and recession local stores rely upon low cost vinyl banners for advertising. These stores are placing custom vinyl banners on their buildings for display. They are advertising their name or products on sale and displaying these banners to people passing by. Most people are not aware of the tremendous traffic that drives on the major streets of Vegas every day. Thousands of vehicles are regularly driving on Spring Mountain and Sahara Ave every single day. As these people are driving by, they are taking notice of signs.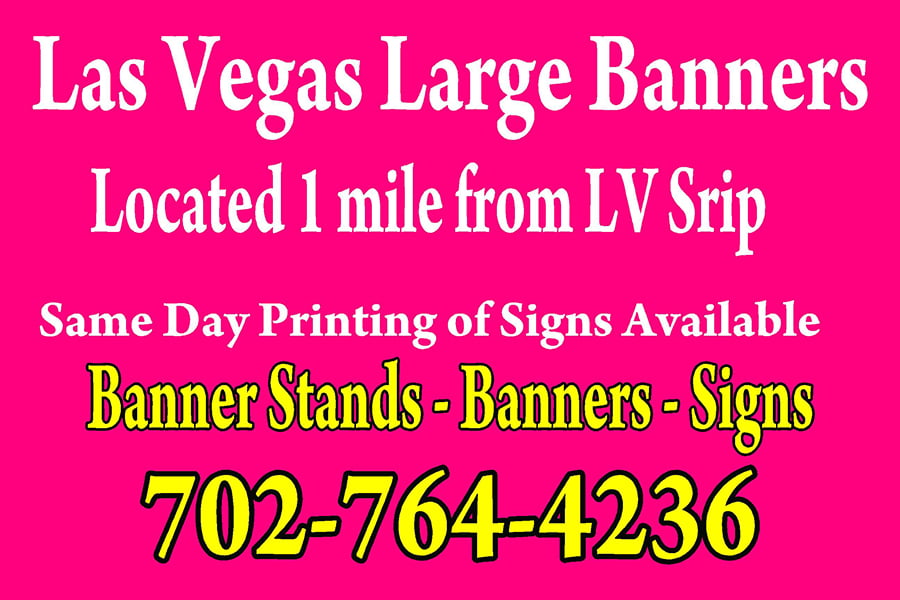 Custom Business Banners Vegas Come in Many Sizes
Las Vegas custom banners come in many different sizes to meet your marketing needs. For example, you can order a large 10ft tall x 50ft long banner size. This is a great size banner than can be easily be read from far away. Las Vegas stores that are close to the freeways like these large vinyl banners. Because they can be seen by people driving by on the freeways. As motorists are driving by or stuck in traffic. They can read the banner signs and take notice of what you are advertising.
If your store is on a major street, many times a 3ft x 8ft banner or 4ft x 8ft banner is plenty big enough to be seen. So people are much closer to your store driving on the street. And your banner does not need to be so big to be able to be read.
These custom vinyl banners are full color banners. So that means you can have as many colors or combination of colors on the banners as you want. Also pictures and images can be printed on the banner. During political season this is important. Because so many politicians want a picture of their face on the advertising banner signs.