Custom banner printing is being used by local Las Vegas businesses to promote their stores. In these hard economic post covid times, businesses are looking to get up and running again. But the cost of advertising in newspapers, radio and direct mailings has skyrocketed. So Vegas stores are turning to old school tactics to create business. These stores are placing large vinyl banner signs on their buildings. So they can be seen by the vehicles passing by.
The Nevada Dept. of Transportation does traffic studies throughout the state. They confirmed what everybody already knows. The streets of Las Vegas are becoming more congested every year. Many Californians are moving into Las Vegas and traffic is starting to get worse. However for the business community, the new residents make businesses grow. The question is how do you get the attention of new residents to notice your business ?
Las Vegas banners are being used by placing them on the businesses buildings to get their attention. It turns out that the major streets of Las Vegas like Sunset, Eastern and Tropicana get thousands of vehicles driving on them every day. So by placing a vinyl banner on a building will get seen by many people. That equate to just pennies a day to be seen by lots of people. As the banners Vegas will last well more than a year in the outdoor weather of Las Vegas.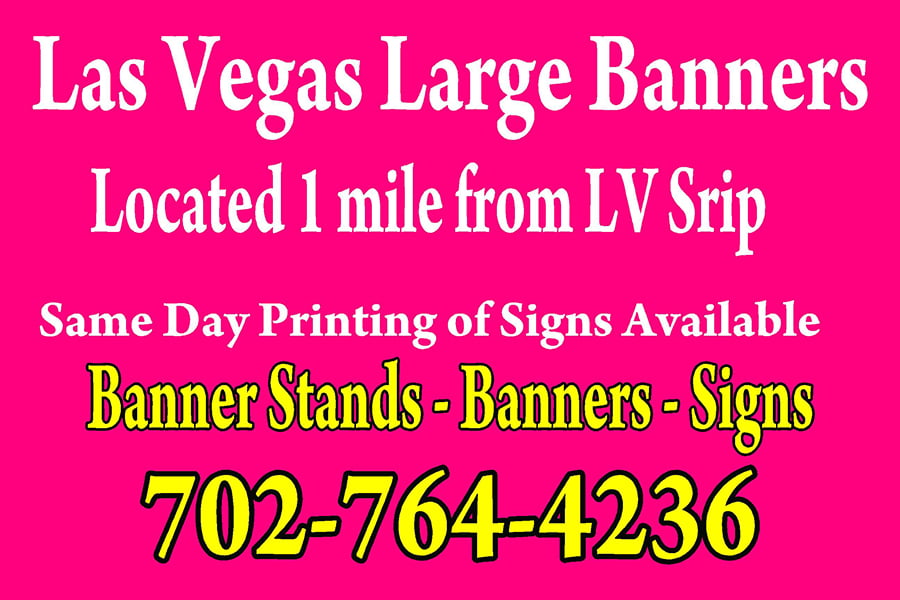 Custom Banner Printing Is Cheap And Fast
Las Vegas banner printing is about $3.00 a square foot. The banners are printed on a 13 ounce vinyl banner with solvent inks that are designed to last a long time. The banners Vegas are finished with hemming on the edges for strength. So then grommets are placed every two feet on all four sides. So as to make it easy to hang for display. Your local Las Vegas sign company will have more information on these great banner signs.