Convention display signs are needed for the many hundreds of conventions and shows held in Las Vegas. Las Vegas Nevada is the king of conventions. More people want to have their trade shows and conventions held in Vegas than any other place. Thousands of vendors descend upon Vegas every year to showcase their products and services. The newest gadgets and innovations are put on display. So this attracts millions of attendees from across the world. These people, representing businesses, want to be part of any new ideas and products. So they can be the first in their area to have them. Many Vegas signs and Vegas banner stand displays are needed for these shows. The convention display signage will leave a lasting impression on your customers. These banner stand displays, foam board signs and vinyl banners serve as powerful tools to deliver your marketing message.
The convention venues are very busy during the events. The signs act as sensory stimuli. Bold colors, clear and concise fonts, and captivating graphics draw attention to your convention display. A well designed sign can communicate a message even from afar. So thus making it a valuable tool for attracting people to your booth or display area. The convention signs then act like a resource that you can refer to when you are speaking to potential clients.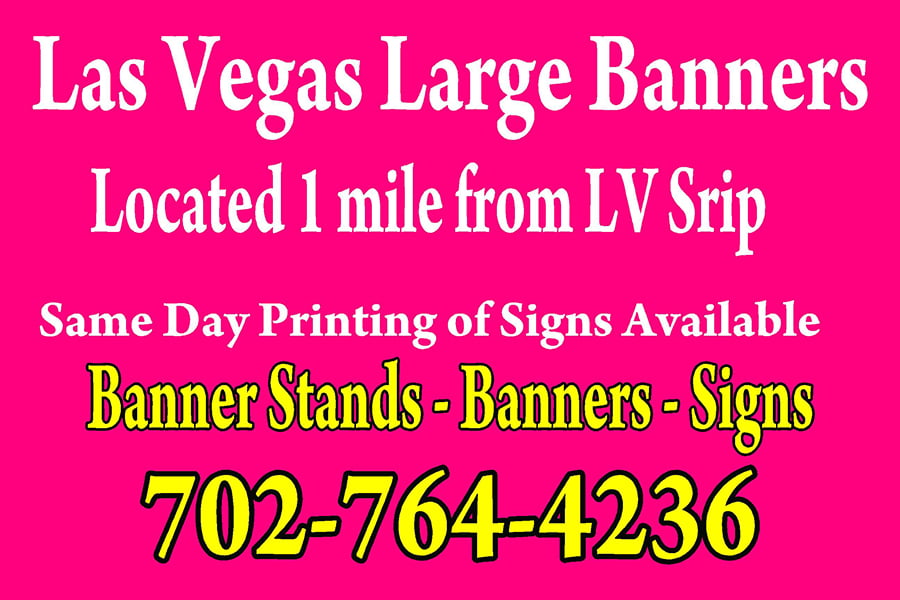 Convention Displays Signs Can Help Brand Your Company
Consistency in branding is great for bringing brand awareness. Convention display signs provide an opportunity for reinforcing a company's brand identity. By aligning with a brand's established identity, these Las Vegas signs contribute to a memorable experience for attendees. So thus leaving a lasting impression of your company in their minds.
Convention display signs like retractable banner stands and foam board signs excel at delivering key information. Whether it's product details, company information or contact information. These signs offer a platform for conveying details to your potential customers. So these signs help clients understand your products and company.
There are many types of signs and trade show banners that can help you capture the attention of attendees at your convention. Large banners and backdrop banners are sure to get people's attention when they are walking by your convention booth. Foam board signage are light weight signs that can be placed on easels or on top of tables to get attention. The foam board signs are very cost effective and cheap in price. Convention banner stand or pull up banner stands offer impressive signage at a low price. These retractable banner stands are self standing and can be placed anywhere. In fact, many convention venues like Las Vegas Convention Center use them for directional signage.
Conclusion
Convention display signs are a great way to get people or attendees at these events to take notice of your company. The signs will cause clients to stop and look at them. So thus giving you the opportunity to speak with them about your products and services. By utilizing these signs strategically. Businesses and organizations can leave a lasting impression on their clients. These signs are fostering brand recognition and building good client relations