Convention banners are used a lot at the Las Vegas Convention Center. These cheap banner signs are very popular because they are inexpensive and can be custom made to any size you want. Vegas banners are full color. So that allows for any and all colors to be printed on the vinyl banner. Also pictures and images can be printed on the Las Vegas banners as well. The custom vinyl banners can be made to any size ranging from 1'x2′ all the way to 10′ tall x 100′ wide. Some vendors and companies like to display very large banners from the rafters of the convention venues. This allows the convention banner signs to be seen from very far away.
Trade show backdrop banner displays are also popular at the event venues. These are basically vinyl banners that are very large. So these Vegas banners are held up by large adjustable banner stands that adjust in size. The two most popular backdrop banner stands are the 8×8 backdrop display banner and the 8×10 backdrop display banner. Both these banner signs are hugely popular because they fit in the rear of your display booth ( Depending on your display booth display sign room ). The large banners are easy to set up and do not require expensive union labor. As anybody knows that union labor is expensive and a pain to hire with all the paperwork.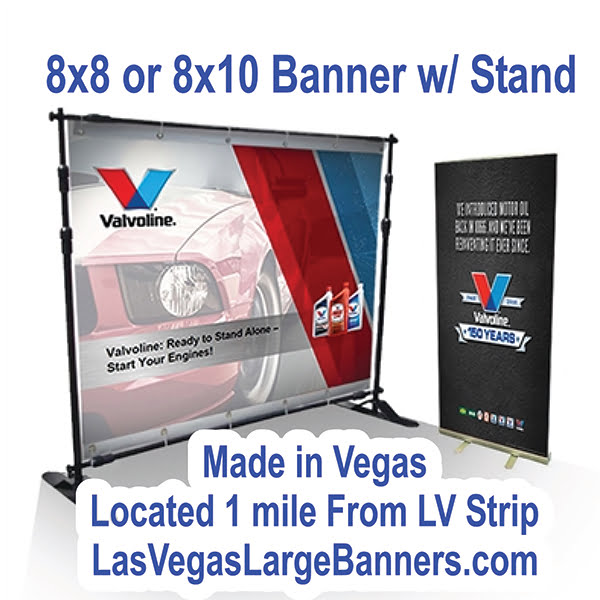 Convention Banners Can Be Made Fast
Same day convention banners are possible in Las Vegas. Because many of the sign stores that cater to the conventions have new printers. So these newer printers can do Las Vegas banner printing at high quality and at very fast speeds. These large printers can print vinyl banner at several hundred square feet per hour. Not only has this brought down the price of Vegas banner signs. It has also allowed for higher quality banners.