Convention banners Vegas are in demand for the Las Vegas conventions. The convention business is huge in Las Vegas. There are hundreds of events and conventions held in Southern Nevada every year. In fact there are three large convention venues that have over one million square feet of convention space to hold the biggest conventions. The Las Vegas Convention Center has about 3 million feet of convention space. This facility is home to the World of Concrete and Consumer Electronic Show. These two conventions alone bring hundreds of thousands of participants. It is anticipated this year alone will bring several million people to attend these events.
Las Vegas banners are popular at these events. The banner signs are cheap in price and can be made quickly. Very often the companies and vendors will make large 8×8 backdrop banner signs and 8×10 backdrop display signs for the rear of their display booths. Large adjustable banner stands are then brought in to display these large banner signs.` So the banner stands adjust to display your large banners. Companies will also make 2ft x 6ft vinyl banners and tape them to the front of tables. So this way anybody approaching can see you banner real easily. The banner Las Vegas usually has the company name and logo on it. The banners are full color. So you can print pictures, logos and images on the banner in any color.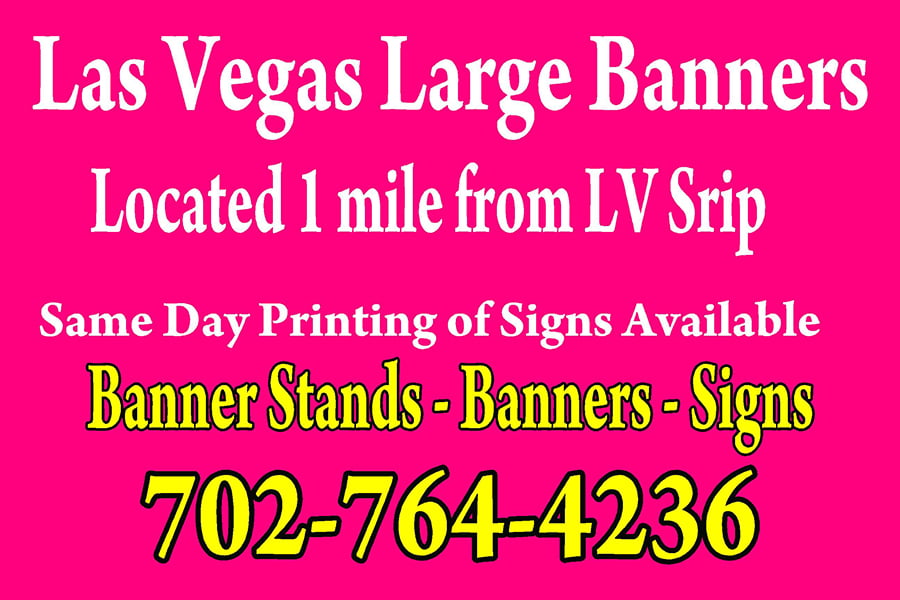 Convention Banners Vegas Can Be Made The Same Day
The local Las Vegas sign and banner companies can make your Las Vegas signs and Vegas banners real fast. So the reason being is they have the modern Las Vegas printing machines that can print vinyl banners fast and cheap. The speed of these printers has increased. So the production costs have been lowered and the savings passed on to the customer.