Convention backdrop display banners Vegas are being used at the convention venues in Las Vegas. The vendors like to use these large backdrop banners at the rear of their display booths. The background banners can be made to any size. So the backdrop banners are full color and can have as many colors printed on them as you like. So the vinyl banners or fabric banners can have pictures printed on them as well.
The vendors and businesses displaying their merchandise at the convention venues. Use these backdrop signs as a easy way to advertise to the people at the event. So as the people walk by, they cannot miss visually seeing a large banner. The companies will print their name on the banner and a logo. But most importantly, they will print pictures of their merchandise and services on the backdrop banner sign. So when people look at the large sign, they can easily identify what type of products you are promoting. So as they read the banner, the sales team can approach and supply them more information.
The convention business is big business in Las Vegas. Las Vegas is major destination for tradeshows and conventions. As there are hundreds of events and shows held every year in Vegas. There are three major event venues in Southern Nevada. The Las Vegas Convention Center with over 3 million square feet of convention space. The Mandalay Bay Convention Center and Venetian Convention Center. So the latter two facilities have well over 1 million square feet of floor space for conventions. Many foam board signs, poster signs and stand up banner stands are needed for these events.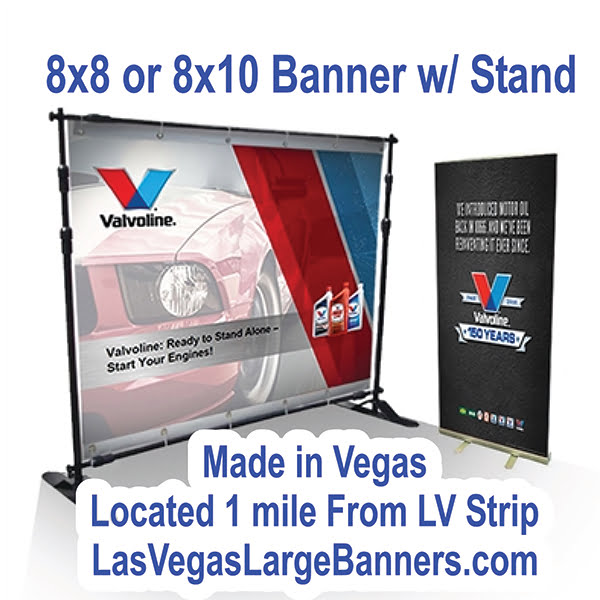 Convention Backdrop Display Banners Vegas Come In Many Sizes
The most popular size backdrop banner signs are the 8ft backdrop banners and the 10ft backdrop banners. Both these vinyl banners are displayed through the use of a large adjustable banner stand. These banners fit on this stand as the stand adjusts in size. So the banners can have grommets on all four sides and zip tied to the banner stand frame. Or the backdrop banner signs can have pole pockets . So a pole can slide through the pocket and be displayed that way.