Construction dust signs Vegas is a great search term to use when your need a dust sign. The Clark County Dept. of Environment and Sustainability make it mandatory to have a Vegas dust sign on the premises. The govt. people also make it mandatory to have a responsible party at all construction sites. So the purpose of this govt agency is to make sure to limit the amount of dust from the top soil going into the air we all breathe. The responsible party has to take dust classes to be educated on how to do this. Because living in the desert has its drawbacks. On windy days or when the top soil is disturbed. Dust will go into the air creating a heath concern. We all breathe this air and limiting the dust going into the air is a good thing for everybody.
A dust sign Vegas is also required by Clark County. On this dust sign certain information needs to be placed. So this information includes permittee's name, project name and expiration date of the project. Also the responsible parties telephone number, acreage and permit number. The responsible parties information is placed on the sign so that people can call them if their is a concern. It is much better to have the complaining party call you rather tan calling the govt agency. As nobody wants the govt at their construction site. The Vegas dust sign must be placed in a spot with easy visibility for the public to see.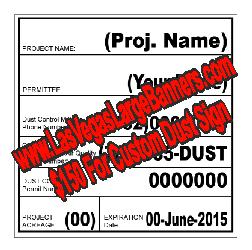 Construction Dust Signs Vegas Cost About $150.00
A complete Las Vegas dust sign costs about $150.00 . So this includes print, lamination and double sided aluminum board. So this dust sign is ready to install and is compliant with the Dept. of Environment and Sustainability. It takes about 1-2 days on a normal Vegas dust sign turnaround.