Clark County dust control signs are mandated by the Clark County Dept. of Environment and Sustainability. These good people at Clark County try to limit the amount of dust that goes into Southern Nevada air. As the dust from the desert topsoil is loose and frequently causes pollution. So when the dust goes into the air, we all breathe it. So the dust people mandate that a responsible party at construction sites try to minimize the dust that goes into the air. They make the responsible party take a dust education class. Also, the Clark County people mandate a dust sign be placed on the construction site premises. These dust signs Vegas must contain certain information.
The Las Vegas dust signs must have specific information on them. So this includes permit number. permittee and project name. Also the permit expiration date, acreage and contact information for the responsible party and the Clark County dust people. So this way somebody can contact the responsible party if their is a dust issue to get it resolved. So otherwise the County gets involved and nobody wants the county involved. As they can fine you and even order your construction site to be shut down for violations. The good people take the dust control signs very serious. These signs also need to be placed in a location easily visible to the public.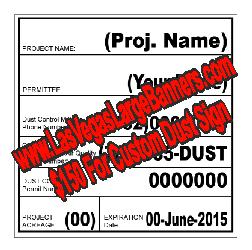 Clark County Dust Control Signs Coat About $150.00
The Vegas dust sign can be made fairly quickly. The average turnaround time is just a day or two. However, the dust signs can be made same day in many cases. Often, through no fault of the builder, the dust sign gets stolen or vandalized and the county wants it repaired or replaced quickly. In these types of cases, the local Vegas dust sign printers do everything they can to accommodate you.